Netflix 5 rs plan is currently being testing and explored in different parts of the Indian Market to compete against rivals in India. A new report suggests that Netflix India is testing its subscription services for Rs 5 for the very first month. Of course, it sounds the cheapest subscription services available around the globe. However, the most affordable Rs. 5 plan would come with a catch.
Netflix 5 Rs Plan for the first month
A report from Gadgets 360 notes suggests that the new Netflix subs offer only available to only select new members. This offer means that Netflix's 5 rs plan is testing everyone's luck for the Rs. 5 plans.
However, Netflix earlier had tested similar plans for grabbing the attention of more and more users with its Rs. 199 long-term mobile plans. Netflix regularly proves its new cheaper subscription plans and loads of features on its platform. This one is also another test for its platform.
Moreover, "this is a new marketing promotion strategy designed to help several users discover Netflix". A Netflix spokesperson stated to Hindustan Times, "Depending on the success; the company might even roll out this plan."
Netflix India Rs 5 plan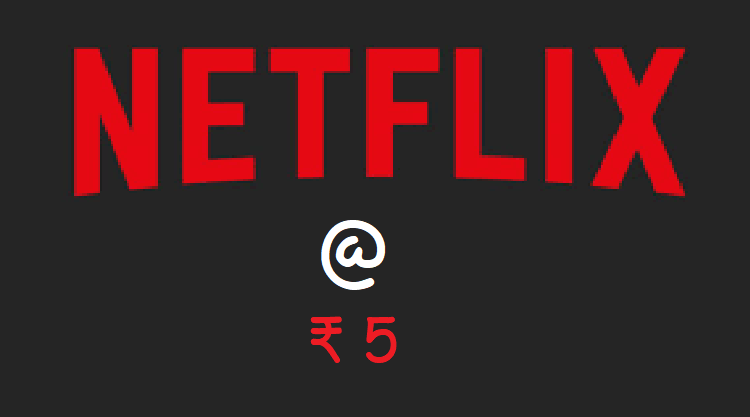 The all-new Rs 5 Netflix India's plan is available irrespective of any subscription plan. Moreover, Users can also opt for any of the available plans – Rs 199 mobile plan, Rs 499 plan, Rs 649 standard, and Rs 799 premium plan.
Read More Articles
It is worth noting if you are lucky enough to get the first-month Netflix India rs 5 subscription. You'd still be able to choose from other plans (free Netflix accounts), but for the Rs 5 subscription plans, users will have to pay the full amount from the second month. If you find this article helpful, do share it with your friends and family.