PC Games are always a fun way of spending time with your friends. Nowadays, multiplayer pc gaming is increasing daily. And a lot of new PC games have been specially designed with for local multiplayer gamers in mind. However, if you are away from your friends in that case, Hamachi Alternatives comes in play to help you and your buddies connect each system to a LAN router. These LogMeIn hamachi alternatives give choices for creating their own server, but it requires port forwarding via your router, that's something not everyone knows about. For all those people, Virtual Lan Creators – Hamachi comes into play. LogMeIn has been around for a long time and is preferably used by many PC gamers.
The 8 Best Hamachi Alternative 2021:
However, Hamachi comes with some drawbacks. The very first drawback that pops up is you can only have 5 clients at a time, including LAN hosts. Along with that, some users have also been noticing lag and latency while using services like hamachi for Virtual LAN gaming. So, in this article, I'll list down Most Popular LogMeIn Alternatives 2021.
Evolve VPN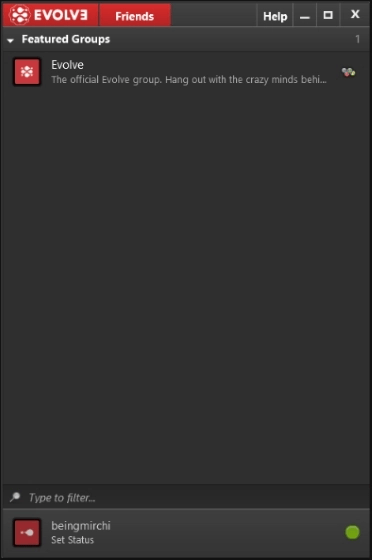 In the world of Virtual LAN Gaming, EvolveHQ – Evolve VPN has very quickly spread worldwide and is currently the no. 1 choice for many pc gamers. Evolve VPN has always been the first choice for setting up multiplayer games over the Evolve VPN It follows the Steam-like approach, with a feature-rich overlay that works within thousands of multiplayer games. Moreover, the Evolve VPN team partnered with Green Man Gaming, now you can also purchase from inside Evolve's client-side only. Continue reading further to know about programs similar to hamachi below:
Apart from all these features, there's also a party mode and matchmaking feature included in it. And Evolvehq com's new upcoming version also integrates with features like live streaming on social media platforms like Facebook, Twitch, YouTube. You also get an option to chat via text as well as voice using the client.
Download (Free, Party+ $4.99 per month)
Check the list of 5 Cool Discord Bots that you can use in 2021
ZeroTier
ZeroTier is the name you might haven't heard of, but it is one of the most popular and best Hamachi like softwares in 2021 for creating your very own virtual LAN gaming server. ZeroTier basically supports all operating systems – Windows, macOS, Android, iOS, and especially Linux. ZeroTier is an Open Source app and comes with both Android and iOS apps. It is very easy to use and manage, you won't need to do any port forwarding. Since it is Open Sourced you will find huge community support for the app. Apart from all this, ZeroTier is one of the simplest and very advanced Virtual Local Area Network creators. Some of its features are low ping, easy to use UI.
Download (Free, Basic Plan – $29 per month, Pro plan – $100/ a month)
GameRanger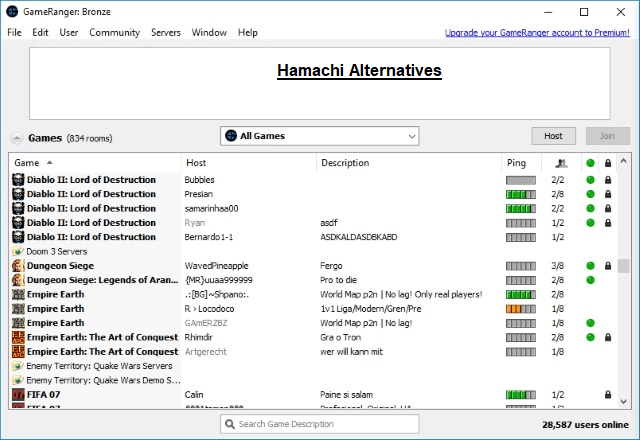 Softwares like Hamachi, GameRanger is also known among the Virtual LAN gaming community. GameRanger started as a project for the macOS back in 1999 and was further expanded to the Windows in 2008. You won't find a lot of features, but it guarantees a high level of security with stability.
GameRanger uses drivers for Virtual LAN Gaming, to enhance security and very latency. However, GameRanger is limited to only a few games, unlike Hamachi. If you want to experience Virtual LAN Gaming then GameRanger is one of the best gameranger alternatives for you.
Download (Free, Subscription-based other plans)
FreeLAN
FreeLAN is one of the most famous tools for creating your own Virtual Private Network (VPN). Just Like ZeroTier it also open-sourced and can be easily customized and create your very own private gaming network such as client-server, hybrid, or peer-to-peer. You can find the FreeLAN guide here. Despite being open-source you'll find huge community support for FreeLAN. Overall, it is one of the best and free alternatives to Hamachi LogMeIn.
Download (Free)
Radmin VPN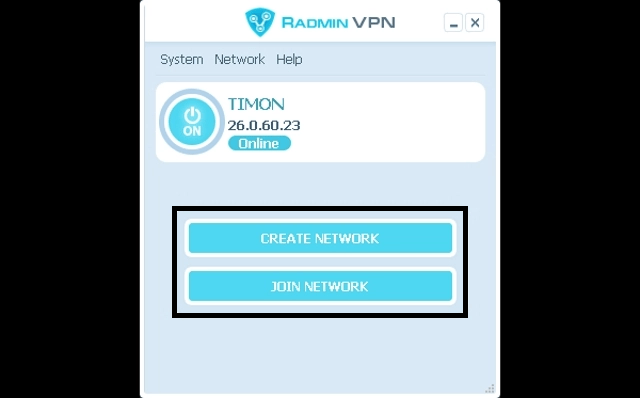 Radmin VPN is the name that many users go for. The best feature of Free Radmin VPN is that it does not limit the number of gamers. Thanks to its high speed you will be able to play your favorite multiplayer game as if you were playing via LAN. Free Radmin VPN offers speeds up to 100 MBPS, and also provides secure VPN tunneling. Unlike other vpn like hamachi, this one is very easy to set up and get your favorite game running in no time. If you are looking to try out an alternative to Hamachi then this is the one you should definitely go for.
Download (Free)
P2PVPN
Another local network gaming alternatives to hamachi is this unique platform – P2PVPN. It was developed by a single developer for his thesis purpose. And you will be amazed to know that its simple interface and basic features do manage to create a VPN quite effectively and easily.
The best thing about P2PVPN is that it doesn't require any central server. Moreover, it has been open-sourced since then and written in Java. P2PVPN is a recommendation for basic LAN gamers for playing games like Counter-Strike or some other old-school pc games over VPN.
Download (Free)
Also Read: Best Game Recording Softwares for Windows and macOS
SoftEther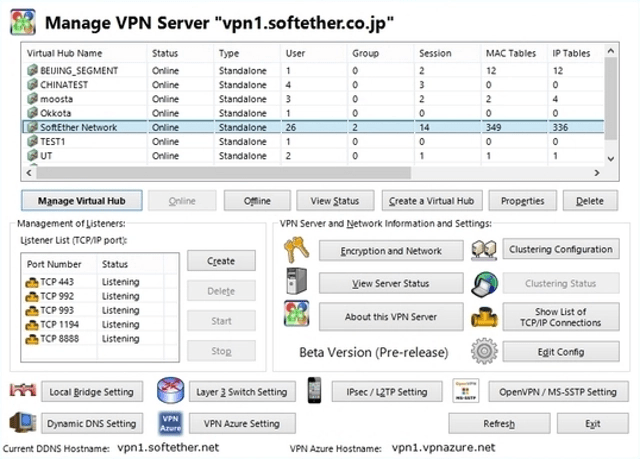 SoftEther stands for Software Ethernet – is one of the most powerful multi-protocol VPN software. These alternatives to hamachi – SoftEther VPN supports Windows, Mac, Linux, Solaris, and FreeBSD. It is also open-source similar to ZeroTier and offers great features. It uses SSL-VPN Tunneling on HTTPS to pass through any NATs and firewalls and to add more to it. It also offers AES 256-bit and 4096-bit encryptions for better security and more privacy. You can consider SoftEther for apps similar to hamachi as the best alternatives.
Download (Free)
Alternative to Hamachi for Virtual LAN Gaming 2021
Hamachi has been an all-time favourite for LAN gamers around the globe. It is one of the best Virtual LAN creators that you can find online. However, it has a limited number of member connections with higher pings and lags in the games. As a result of which many gamers started looking for Hamachi Alternatives and for some time Evolve VPN was preferred mostly by them but now Evolve VPN has been stopped and can only be used for streaming.
Aforementioned, Hamachi Alternatives work great and even some alternatives work even better than Hamachi itself. Apart from these alternatives, there are several other alternatives you may find on the internet, and make sure to mention better alternatives if you think that we might have missed them.