Discord is something if you're unaware, It is currently one of the best and widely used chat platforms for the gamers. It is fantastic and mesmerizing and has already been adopted by gamers worldwide. The Discord is very robust and easy to customize. The best part about the Discord is that you can have discord addons to enhance the functionalities of your Discord server. Here I've listed down 10 best cool discord bots that will prove to be the best cool bots for discord server in 2020.
If you are new to the Discord platform and don't know how you can add cool Discord bots to your server, you can click on the link to know more about it and want to know how to stream Hotstar on discord. Here is the list of 5 Cool Discord Bots that can help you Enhance Your Server experience.
5 Most Useful Discord Bots (2020)
Rythm Bot
If you have ever wanted a dedicated bot for music, then Rythm bot is the best and useful discord bots for your server. The Rythm bot commands help you get the best music experience from multiple sources online (YouTube, SoundCloud). However, Rythm bot commands don't support Spotify, but you can customize it easily to support Spotify player.
Furthermore, you won't have any music lag nor have to compromise the sound quality along with all that you have support for lyrics and more with the set of rythm bot commands.
Add Rythm
DynoBot
If you've just set up your Discord game server, Dynobot should be the one to look for. Dyno Bot gives you total control and is also a feature-rich bot for auto-moderation using a dedicated dashboard with log updates. Dyno commands include timed mutes and bans option.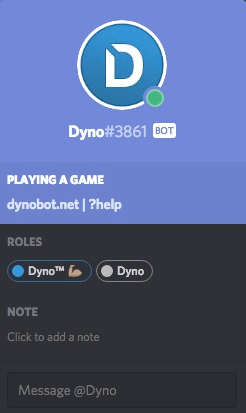 Dyno Bot is also very useful for airing custom announcements in your Discord server, which already makes dynobot a useful discord bots. You can also add different roles to your discord server members. Like Rythom bot, Dyno can also stream audio tracks from YouTube.
Add DynoBot
MEE6
MEE6 is one of the powerful yet Cool Discord bots which gives you full control over its commands. MEE6 bot gives you the option to "set different commands such as automatically add or remove user roles, send a welcome message, and more." Moreover, the user gets to create automated action replies for spammy users.
Above all that, you can also set up penalties for spammy users based on the number of infractions in the server. MEE6 bot also allows you to set custom notifications whenever you or your favorite games go online.
Add MEE6
Also, know how to change text color in discord using the step-by-step guide here!
Fredboat
Fredboat is another yet powerful discord bot and is hosted over 1000000 discord servers worldwide. Fredboat commands include options to play from popular radio platforms like YouTube, Soundcloud, Twitch, Bandcamp, and more. Fredboat is a good bots to add to Discord; it also supports playlists to play songs without any interruption.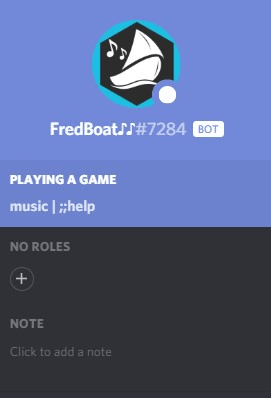 Another cool Fredboat commands, or you can say the feature is that you can directly search for the name of any song you like to play.
Add Fredboat
Groovy Bot
The groovy bot has been around for quite long and already been through redesign and rename and is among the most popular and feature-rich widely used music bot on the entire Discord platform worldwide. It is also one of the best discord bots due to its uptime and easy to use.  It also supports SoundCloud, Spotify, YouTube and allows music shuffling, queuing of songs and lyrics, and permission feature to restrict bot to certain users or roles.
Groovy Bot also has a premium version of features that allows you to change the bass boost, pitch of the music, speed of the song currently playing.
Add Groovy
See Also: Best Game Recording Software for Windows
FAQs
What are the best discord bots for gaming servers in 2021?
You can use these 5 best discord bots to enhance your server experience on Discord.
MEE6
Groovy Bot
Dyno Bot
Rythm Bot
Fredboat
Enhance Your Discord Server with 5 Useful Bots
Now, when it comes to music bots, Discord has a ton of them. However, you'll find that many of the bots have uptime issues, limited platform support, and laggy track playback. These Discord bots, as mentioned above, are good, and none of them have any of these problems and would be a great add ons to enhance your Discord server. These are the cool discord bots to add to your server. Moreover, you can also stream Hotstar on discord. So, if you believe we left or skipped any other great cool Discord bots, do let us know in the comment section below.