There are several methods to delete Instagram photos and posts, and the easiest way is by deleting them one by one. So, to save your precious time I'll show you alternate ways to delete all instagram posts in no time.
The quickest way of deleting all the photos from Instagram is by deleting your account on instagram. But not everyone is a fan of starting over again by following back all your friends or family members.
So, in this article, I have mentioned some alternatives that will help you to bulk delete all Instagram posts. Unfortunately, I didn't know these methods back then. If I had known deleting multiple photos or videos would have been much easier for me. Nevertheless, you can also check our guide on how to fix Instagram couldn't refresh feed error in under 2 mins.
Delete All Instagram Posts or Videos at Once
If you are an android user you won't have much flexibility deleting posts when compared to an iOS user. Here you will find steps on how to delete posts on instagram on Android, iOS, and Computer. However, the very 1st method is monotonous but you can definitely count on it.
If you are wondering how to record or screenshot Instagram stories without being caught, here is how you can do it.
Remove All Instagram Posts Manually
Here's how to remove multiple Instagram posts manually at once.
Click on any one of your images.
Then tap on the three dots.
Select Edit.
Now add a crazy hashtag to your posts (eg – #111a5sd1asd)
Save the changes
Repeat the same process for every post you want to delete.
Finally, search for your hashtag.
Also, read our detailed article on how to find and add contacts on Instagram here!
Delete Multiple Instagram Photos using Third-Party Apps
The very efficient way to archive posts, videos on instagram is using a smartphone. Here you will find steps to bulk delete posts using an Android device as well as iOS devices.
Delete Multiple Instagram Posts on an Android device
In order to delete all instagram posts, you will have to log in to your account. The process includes using a third party app – Instant Cleaner for Instagram (available on google play store). The free version will let you select a total of 5 instagram photos/ videos.
Now select all the photos you want to delete. Finally clicking on the delete button will remove all your photos from your Instagram account.
If you're looking for steps on how to hide an Instagram comment, check out the linked article to know more!
Delete Multiple Instagram Posts on iOS
Just like an android app, there's also a third party app for iOS to easily remove multiple photos on Instagram. However, this InstaClean – Cleaner for IG app offers both free and pro versions. The free version of InstaClean allows you to delete 50 photos/ videos at once.
InstaClean Features
Manage followers
Mass unfollow users
Mass unlike
Mass accept new followers
Moreover, if you do not want to delete all instagram posts. You can hide all of your insta photos from your friends and family. Here's how –
How to Hide All Instagram Photos at Once
The best way to hide instagram pictures is by adding them to the archive section of your profile. Select the photo you don't want to be visible on the social media and tap on Archive to hide them. Or you can temporarily disable your account to hide all Instagram photos at once.
Steps to Temporarily Disable Instagram Account
If you want to access your Instagram account again after deleting it then you should opt for disabling your Instagram account temporarily.
First of log into your Instagram account on a pc.
Go to your profile page and then click on "Edit Profile".
Here at the bottom, you will find the "Temporarily disable my account" option.
Now, enter or select a valid reason why you want to disable your Instagram account followed by re-entering your account password.
Finally, click on Temporarily Disable Account in blue color.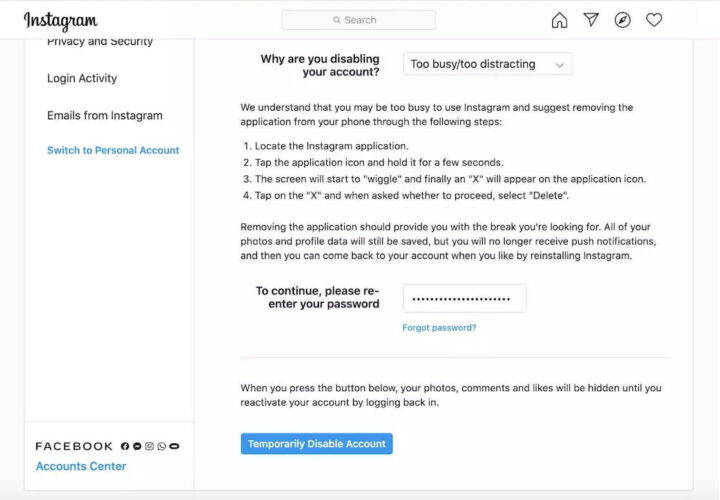 Quick Tip: In the future, if you want to regain access to your Instagram account, simply log in with your username and password. So, that is how to hide Instagram photos without deleting them.
Also, check out our article on how to use the sad face filter on Instagram with our detailed guide here!
Wrapping Up
With all your photos or videos deleted from instagram, you can enjoy your social free life without being embarrassed.
FAQs
How to Delete All Instagram Posts at Once?
The easiest way to delete multiple images/ videos on Instagram is to look for photos with the same hashtags. Select any one image and then tap Menu and select Edit to delete it.
How do I delete multiple posts?
In case you want to remove multiple posts at a time, tick the box next to the action and then tap on Trash on the top right corner.