Nowadays, the majority of American students are using Chromebooks in their classrooms; many users indeed prefer iPhones over other smartphone devices. And ultimately, it leads to incompatibility between two unique ecosystems created by Apple and Google. Yes, you guess that right, I'm talking about install iTunes on Chromebook.
Well, in this article, I lead you with a thorough guide on how to install iTunes on Chromebook and get it working. Along with that, you can also get to know about the best Google Drive alternatives. Here we will also discuss the performance as well as can you install itunes on a chromebook,
Steps to Install iTunes on Chromebook in 2022
Here, we have thoroughly gone through how to get iTunes on Chromebook. To give you an overview of that, we are using an app called Wine – popular for running Windows apps on a Linux environment. We will install windows version of iTunes for Chromebook via the Linux container. Now, let's go step by step on installing iTunes on Chromebook in 2022.
Now, we will download iTunes for Chromebook. Do note that, 64-bit iTunes version does not work correctly and shows black windows. So in order to use iTunes, you need to download 32-bit version of iTunes (Build version 12.9.3 – August 2019) from here.
Rename the file to "itunes.exe" and finally move it to the Linux section when the download completes.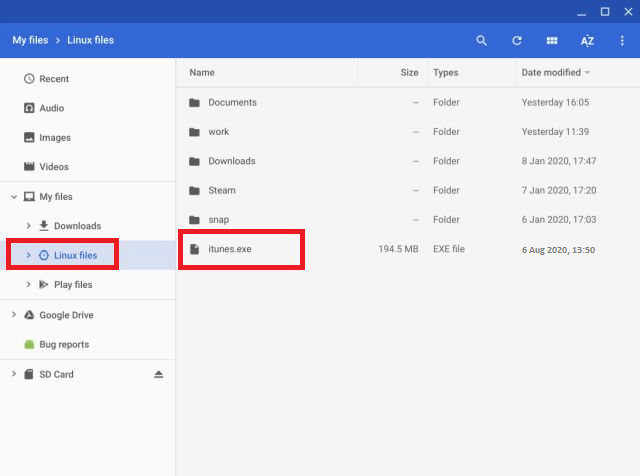 Update Linux to the latest build available online using the command below:
sudo apt-get update && sudo apt-get upgrade -y
Once the update is completed run the command below to change the wine architecture to 32-bit.
WINEARCH=win32 WINEPREFIX=/home/yourusername/.wine32 winecfg
Make sure to change your username to the actual username you assigned on to your Chromebook. If your email ID is xyz.123@gmail.com then your username should be xyz123.
Also if you are looking for steps to install WhatsApp on Chromebook, you can try these simple methods that work perfectly.
Now run the command below to start installing the 32-bit version of iTunes on your Chromebook. Make sure you change your username before you start to install iTunes on Chromebook. Click "Next" to proceed.
WINEARCH=win32 WINEPREFIX=/home/yourusername/.wine32/ wine itunes.exe
Once the installation completes, click on the "Finish" button, there you have it. iTunes runs on a Chromebook.
So that was all about how you can install iTunes on Chromebook computer, now we will be learning how you can create shortcuts for iTunes on Chromebook. Meanwhile, you can also get to know the easiest step for installing windows on android tablets.
Create Shortcut for iTunes on Chromebook
I assume you have successfully installed iTunes on Chromebook with a shortcut already made at the center of the App drawer. But, when you click the shortcut icon, it doesn't open iTunes due to incorrect path value. Now, to fix the iTunes shortcut issue, follow the steps below.
1. Open your File Explorer and then move over to the Linux section. Once you open it, click on the three dots on the top right-hand side and then enable "Show Hidden Files."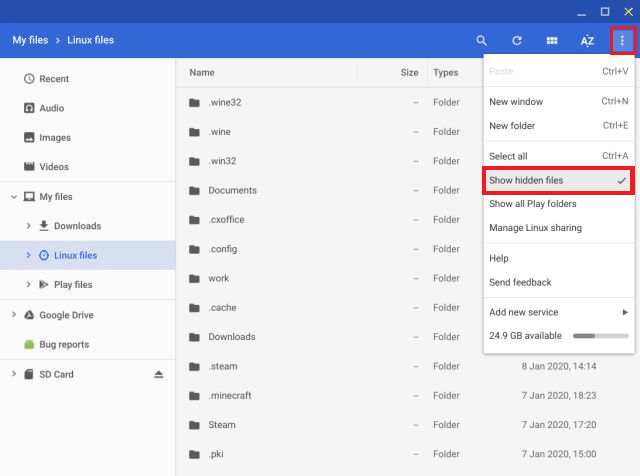 2. Now, navigate to .local > share > applications > wine – Program > iTunes. Here you will find iTunes.desktop file, it is the shortcut file that we need to edit.
Right-click on the iTunes.desktop file and then select Open with Text to open the file. Now, if you don't have any text editor, then you can install it from here.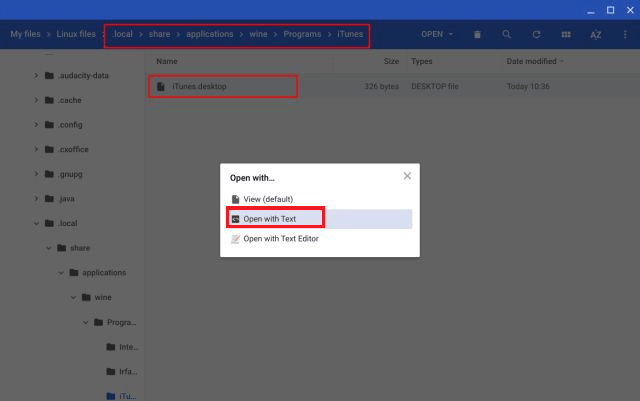 3. Copy and Paste the path link below and do change yourusername to your actual path.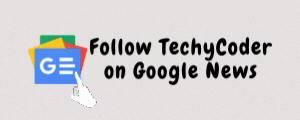 env WINEPREFIX="/home/

yourusername

/.wine32" wine "/home/

yourusername

/.wine32/drive_c/Program Files/iTunes/iTunes.exe"
Also, read our detailed guide on How to Play Fortnite on Chromebook here!
4. Save the file. Now try opening iTunes from App Drawer. It should launch this time.
The most disappointing thing about iTunes is that it crashes every now and then whenever you try to sign in to your account. So, you can't access your media files nor via the cloud. All in all, install iTunes on Chromebook is a bad idea, and you should start looking for other iTunes alternatives.
Install iTunes for Chromebook
Now that we have downloaded iTunes on Chromebook and installed it successfully. However, installing iTunes on Chrome OS is not that simple, you can definitely give it a try for once. Also, check how to install Snapchat on Chromebook device easily.
iTunes alternative for Chromebook
Downloading and Installing iTunes on Chromebook is a hectic task and if you are wondering if there is an alternative to iTunes available for Chromebook. You can always opt for the iTunes alternative for chrome OS and Chromebook.
Google Music Player
Spotify
InstaDj
Rdio
FAQs
Can I download iTunes on a Chromebook?
The answer to your question is yes and no, I'll explain officially Chromebook doesn't support iTunes but there are workarounds that you can try.
Learn how to Install iTunes on Chromebook?
Enable Linux & Set up Wine
Download iTunes on Chromebook.
Open Linux Terminal and check for any updates.
Now, Change the architecture of Wine 32-bit.
At last, Install iTunes 32-bit version on Chromebook.
That's it, this is how you can install iTunes on Chromebook easily.
Wondering how to install Minecraft on Chrome OS? Here's a detailed guide on how you can download and play Minecraft on a Chromebook computer in 2022.