Is it possible to install Windows on Android? Although there are Windows 10 tablets in the market that you can buy easily, there are Android-based tablets too, and most of them come with keyboards that give the feel of Windows Desktop or tablet. If none of them interests you, this might will – Learn How to Install Windows on Android. If you want to risk and void your android tablet's warranty, there is an application named – "Change My Software" it guarantees to install Windows on Android devices.
Android is the best and most popular operating system worldwide. However, you may feel like switching to another operating system without actually changing your device. Here "Change My Software" comes into play that lets you change your Operating System from Android to Windows after you download Change My Software.
Note – This application is unsupported third-party software, which is not authorized by both Google or Microsoft. In other words, you will be using this program at your own risk.
This Change My Software is software that you are looking to manipulate with your Android operating system, giving your device a completely new look and feel with Windows 10 interface. This software is not a theme or a launcher; it changes the entire operating system of your android device. Here's is the complete detailed guide on How to Install Windows on Android using Change My Software and how you can download it.
Note – Since we are not buying a copy of Windows for Android tablets for this installation, we need to proceed with caution.
Download and Install Change My Software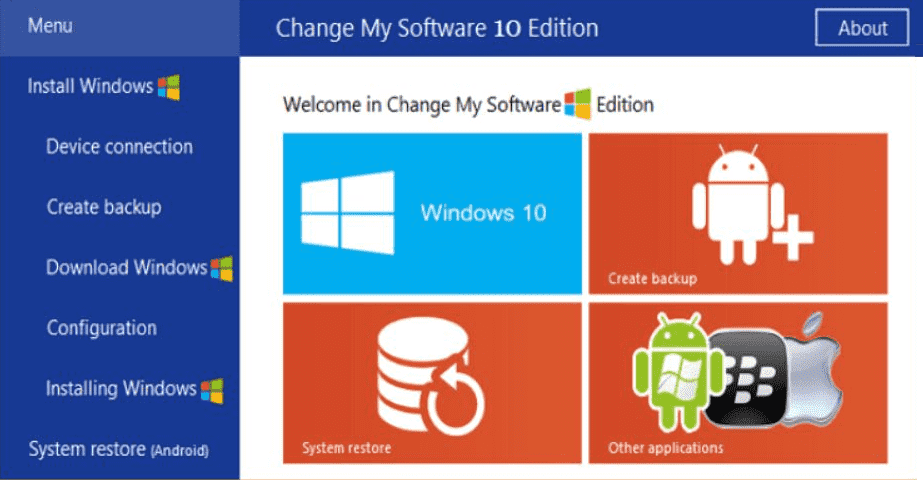 First, you must install Change My Software on your Windows PC. There are several versions of the application, separate versions for different Windows OS (XP, 7, 8, 8.1, and Windows 10). You get an option to download all the versions in a single ZIP file.
Steps to Install Windows on Android
Since this software doesn't detect any external devices, we need to used ADB for this procedure. If you are not familiar with using ADB or are trying to make space on your Android phone and are looking to uninstall bloatware without rooting from your smartphone/ tablet for more internal storage.
Enable USB debugging
8GB internal Storage
USB cable
High-speed Internet Connection
After making sure of all the above-stated things, you can proceed further to install the software.
You need to follow these steps given below are the only way to install windows on android phones and turn your tablet into pc.
Fire up Change My Software application.
Select the Android option from the list followed by Windows 10 language.
The app will download the latest required drivers from your Windows PC to your Android phone/ tablet.
Once done, click on the "Install" button to start the installation process.


Note – Keep your device connected to your PC until the process finishes.

If you want to dual boot both windows and android, you shouldn't click the "Remove Android" checkbox in the ChangeMySoftware app.
Once Windows has been installed, your tablet should ask you to "Choose an Operating System" screen, as shown below.

After selecting Windows OS, your Windows should begin its normal setup process.
Video Guide
Install Windows on Android Tablet – Conclusion
ChangeMySoftware is assumed to work on all supported hardware, but once again, Installing Windows on Android tablets will void their warranties. Moreover, the software itself is unsupported and not approved by Microsoft as well as Google. Did you succeed in installing Windows on Android? That's how to install windows on android phone easily in 2023. And if you find another way to run Windows OS on Android devices, do let us know in the comments below.
FAQs
Can I install Windows 10 on an Android phone?
Yes, you can install Windows 10 on any Android device. All you need is a powerful android phone that can work as a virtual machine in order to run Windows 10.
Is it possible to install Windows on Android?
Yes, it is possible to install Windows on Android. You should have a high-speed internet connection to download change my software app to install windows 10 on Android.