If you've recently upgraded to iOS 14, here's what you need to know. With the release of iOS 14, iPhone users started seeing orange and green lights on the status bar. If that's the case with you and want to turn off orange dot on iPhone, then you are not alone in who is seeing an orange dot on iPhone.
So in this article, I'll be explaining what is, what does and how to turn off orange dot on iPhone screen next to the battery.
What is the orange dot on my iPhone?
You might be wondering why there is an orange square on iphone screen, well the little orange dot on iPhone indicates that some of your installed apps have access to your microphone. There are two visual color lights i.e; Green and Orange. Green light indicates whenever an app is accessing your camera and Orange color indicates when an app is accessing your microphone.
These color indicators appear as orange squares if you have enabled differentiate without color settings. You can change it by Going into Settings > Accessibility > Display & Text Size.
What does the Orange Dot mean on iOS 14?
With the latest iOS 14 update, an orange dot or square, or a green dot indicates when the microphone or camera is being used by an app or service. This is a part of the new iOS 14 update for the users who care about their privacy. With these visual dots users can now easily determine what is being used, whenever an app is trying or accessing a microphone or camera.
Orange Dot on iPhone
You will usually see orange dots on iPhone when calling, WhatsApp, Messenger, Instagram, Snapchat are the few apps that a regular user uses on a daily basis.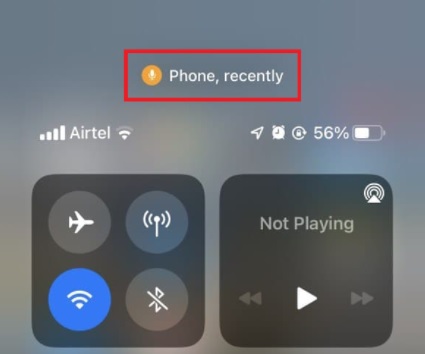 Green Dot on iPhone
The Green dot on top right corner appears when you make a video call or use camera to click beautiful photos. The orange and green dots fade out when an app has stopped using the mic or camera.
Note: You can also check for recent camera or microphone activity by going into the control center and just like the above image you will find which intrusive app was using your microphone or camera without your permission.
Suggested: Know what is mobile services manager and how you can fix it?
How to turn off the orange dot on iOS 14
If you find this new iOS 14 updates pointless and want to turn off iPhone orange dot next to battery. Unfortunately, there is nothing you can do to get rid of orange dot on iPhone. The reason why you can't turn it off is this privacy feature is integrated into iOS 14 and above and moreover, you won't find any settings to disable it as of now.
In a nutshell, you can either deny microphone and camera permission to specific apps and don't allow app to access them.
Tip: Deny Access to Microphone and Camera
The other way around to turn off the orange dot on iOS 14 is to check which app is using the camera or microphone and toggle the switch. These below steps are recommendations that you can follow to ensure you don't get to see unnecessary orange and green light next to the battery icon.
Steps to deny Permission access to specific apps
Here is to know which app is using your iPhone's camera and/ or microphone:
Go to Settings
Click on Privacy
Now, Look for Microphone and Camera
Toggle the switch for the app you don't want to allow access to Microphone and Camera
Note: There are certain apps that you can't stop from accessing the camera and microphone of your iPhone.
Also, check our detailed guide on how to delete all Instagram posts at once with and without using any third-party app.
Conclusion
With the release of iOS 14 on 16th September 2020, users started seeing orange dots/ squares as well as green dots at the top right corner of the iPhone's screen. And as of now, Apple hasn't provided any option to disable or turn off orange dot on iPhone devices. Do let us know in the comment section if you find any other way to do disable the dots.