The Tata group launched Tata Neu on Thursday, possibly India's first super app, that merges food, lodging, airline ticket booking, and medicine on a single platform, that will be hopefully and possibly outstand India's best online shopping platforms like Amazon and Walmart's Flipkart.
Tata Group Launched Tata Neu a Super App
Tata Sons Chairman N Chandrasekaran in a Social media post said – "Tata Neu, merges the group's traditional consumer-first approach" with the new spirit of technology.
Tata LinkedIn Update
"Today is a Neu day!" "Today, Tata Neu is brought to you by Tata Digital, the newest member of the Tata family," he said on LinkedIn.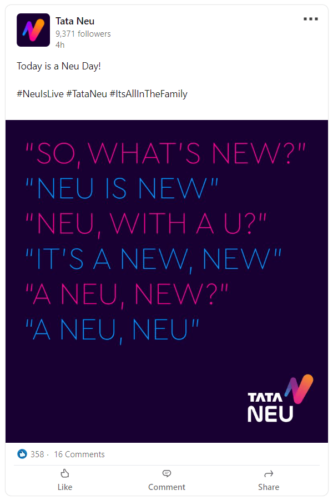 He further added, "It is an innovative platform that brings all our businesses into one powerful app". An entirely new method to discover the amazing Tata universe has been created by fusing our conventional customer-first approach with the modern technological mindset.
"It makes me proud to see so many of our trusted and loved businesses on this Super App already, including Air Asia, BigBasket, Croma, IHCL, Qmin, Starbucks, Tata 1Mg, Tata CLiQ, Tata Play, and Westside," Chandrasekaran added.
However, it is still unclear when can the existing users of apps like BigBasket, 1mg, and Air India can log in to this Super App by Tata Sons. Or the existing app will automatically get integrated into this Super App Tata Neu.
In order to establish a strong presence in the rapidly growing e-commerce market, the group has been beta testing the app since last year. To prepare, the salt-to-software behemoth went on an e-commerce buying spree.
Tata Digital purchased a majority shareholding in online grocery seller BigBasket in May 2021 for an unknown sum in order to surpass Mukesh Ambani's Reliance JioMart and Amazon.
The Indian e-commerce sector is expected to grow from USD 46.2 billion in 2020 to USD 111.40 billion by 2025, according to the India Brand Equity Foundation (IBEF). It's predicted to hit USD 350 billion by 2030.
So, this was it from on this newly launched Super App – Tata Neu. For more such news keep reading TechyCoder.com and follow us on Google News.