Well, there's no escaping from the PUBG craze. It is one of the most-talked serious, and most played games out there at the moment. In this article we are going to walk you through how to Play Pubg Mobile on PC. The battle royale game PlayerUnknown Battleground is a real-time multiplayer shooting game launched last year. If you've been wondering how to download pubg mobile on pc, and how to install pubg on pc, we've got you covered. Here's a quick tip on how to play pubg mobile pc. Let's get started.
How to Play PUBG Mobile on PC in 2021
The game is based initially on PlayerUnknown Ghost hotel. It includes many controls and activities like collecting weapons, landing from the parachute, riding motorbike, cars, killing and surviving from the enemies, which makes it quite challenging to manage all of them on smartphone screens.
For all these reasons, several players have started searching a way out to play PUBG Mobile on their PCs using third-party Android Emulators like BlueStack & Nox Player. However, this quick fix didn't work out for the Emulator players as the game would lag, dropped FPS, and glitches.
To solve this, Tencent games finally launched an official PUB emulator named Tencent Gaming Buddy, now renamed as Gameloop emulator to allow players to get pubg on pc; It is specially designed by the company to optimize the PUBG Mobile on PC. So, what this emulator does is it utilizes PC resources to provide overall smooth, glitch, and lag-free gaming experience to the player.
In case you are still wondering on how to play pubg mobile game on your pc, here's our quick guide:
Step 1: Open "https://syzs.qq.com/en/" on your PC
Step 2: Click the "Download" button and wait for the download to complete
Step 3: Once done, run the installer to install pubg on computer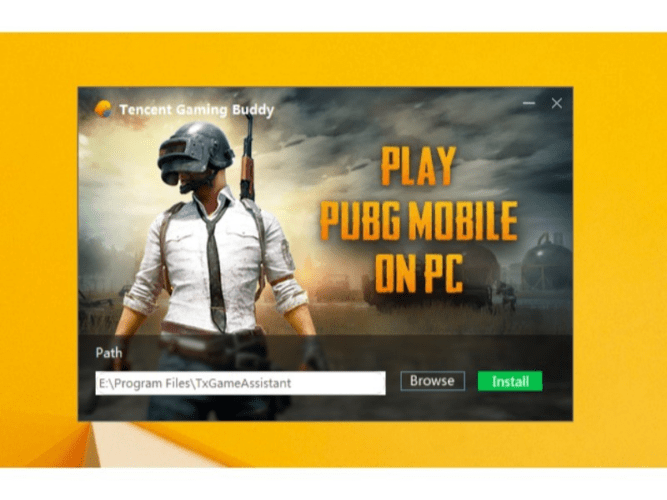 Step 4: After the installation completes, click the "Start" button to download and play pubg mobile on pc
Step 5: After the emulator finishes downloading, click the "Play" button and start Playing Pubg Mobile on your PC.
Play PUBG on PC Without an Emulator
Yes, you read it right. You can Play Pubg on PC without any emulator. Here's how you can play:-
Go to the Steams website, download & install Steams for windows.
Launch Steams app and create a new account or sign into your steams account.
Once, you are logged in. Click on Add a Game in the left bottom corner.
Now, Search for PUBG in Steam Store.
You can purchase PUBG for just Rs. 999, To purchase click on Add to Cart.
Here, you will be asked to choose between Purchase as a gift or  Purchase for myself. Now you can continue to add your payment method and finally make your purchase.
Once purchased, you can now play pubg mobile on pc.
Play PUBG Mobile on laptop emulator and Grab that Chicken Dinner
Well, this was the quick trick on how to play PUBG Mobile on PC. The Tencent Gameloop emulator is no doubt the best game emulator to run games like PUBG Mobile. Well, you can also try playing PUBG Lite pc games as it doesn't require powerful hardware and can run smoothly on low-end PCs as well. Recently, the PUBG Lite PC will Get a Vikendi Snow Map.
Get your chicken dinner
If you love to play PUBG Mobile on PC, you should also consider buying full-pledged PC version. Keep in mind PUBG servers can detect emulators, so it is advised you to play PUBG without any emulators.
So, now you know how to play PUBG Mobile on PC, share it with your friends and family who have trouble playing PUBG Mobile game on the smartphone. Do share your experiences with us in the comment section below.