The popularity of Free Web Hosting Sites has suddenly increased in recent years. And it seems pretty clear why – with all other different expenses required to run a website. Mostly hosting price is paid as compared to a domain price. But there are many website hosting free services available that can help you to stay within your budget.
And what's more budget-friendly for a website than free web hosting services, right?
Well, that's not the case exactly…
Free Website Domain and Hosting websites aren't always free or what they market themselves on the internet. They put restrictions on server speed, bandwidth, storage, and uptimes.
In general, we won't recommend any free hosting and domain name providers. It is always a better option to get shared hosting at low cost.
If you are on a meager budget – here we've made a list of top 5 best and free website hosting and domain services providers.
5 Best Free Web Hosting Sites in 2020
Hostinger.com
The Best and almost "Free Web Hosting" ($0.99/m)
| | |
| --- | --- |
| Sub-domain included: | Yes |
| Bandwidth: | 100GB |
| Disk Space: | 10GB |
| Support: | Live Chat 24/7 |
| Max. Websites: | 1 |
| Max. Email Accounts: | 1 |
| Uptime & Speed: | Very Good |
| Limitations: | See terms of use |
| Official website: | www.Hostinger.com |
Hostinger has become one of the best free web hosting sites after nearly 16 years with a more than 29,000,000 users and spread across 178 countries.
Hostinger is technically "free" at only $0.99/month for their limited and most budget-friendly shared hosting plan in the web hosting industries.
Features:
Easy to use Website builder
Auto Softaculous installer (WordPress, Joomla, and more)
Offers email hosting accounts
Live Chat Support (24/7/365)
Hostinger Uptime > 99.95%
Hostinger has an average of 99.98% (30 days avg).
Hosting Speed Test
It has an excellent record when compared to other free web hosting sites, and it has A+ on the speed test score and less than 600 ms.
Limitations:
No access to cPanel
Increase in price after 1st term
Limited database for a shared plan
Partial support for one-click Softaculous installer
InfinityFree.net
| | |
| --- | --- |
| Sub-domain included: | Yes |
| Bandwidth: | Unlimited |
| Disk Space: | Unlimited |
| Support: | Forum/Knowledge Base |
| Max. Websites: | 400 |
| Max. Email Accounts: | 10 |
| Uptime & Speed: | Good |
| Limitations: | See terms of use |
| Official website: | InfinityFree.net |
InfinityFree, with only 300,000 client base, has managed to create a reputation as the most feature-rich free web hosting with custom domain site.
Features:
Free SSL certificate
No front-end ads
Cloudflare Free CDN
up to 10 email accounts
400 MySQL database
1 FTP account
InfinityFree Uptime > 99.9%
Our 2 test sites hosted at InfinityFree has a score of 99%9 consistently.
Infinity Speed Test:
It has managed to score A+ on the speed test and Time to First Byte below 600 ms. This is by far good when compared to other free web hosting service provides.
Limitations:
The support service is not good enough.
Restrictions on different file types that can be uploaded.
Unlimited storage and bandwidth have many severe restrictions.
FreeHostia.com
| | |
| --- | --- |
| Sub-domain included: | No |
| Bandwidth: | 6GB |
| Disk Space: | 250MB |
| Support: | FAQ/Tickets |
| Max. Websites: | 5 |
| Max. Email Accounts: | 3 |
| Uptime & Speed: | Bad |
| Limitations: | See terms of use |
| Official website: | www.freehostia.com |
Freehostia, a free domain hosting service provider, offers high-end services like dedicated servers. It provides three free email accounts and five free hosted domains. Apart from being free, it's servers have performance issues and many other restrictions.
Features:
Free 5 website hosting
3 Email accounts
Hosting Speed:
The hosted test site has a score of 99.9% uptime always.
Limitations:
Unreliable uptimes
Slow server speeds
Very less storage and bandwidth
FreeHosting.com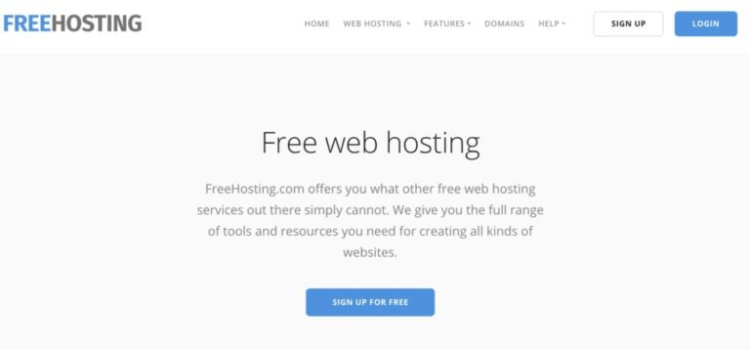 | | |
| --- | --- |
| Sub-domain included: | No |
| Bandwidth: | Unmetered |
| Disk Space: | 10GB |
| Support: | Tickets |
| Max. Websites: | 1 |
| Max. Email Accounts: | 1 |
| Uptime & Speed: | Horrible |
| Limitations: | See terms of use |
| Official website: | www.FreeHosting.com |
FreeHosting.com has grown exponentially in the last decade with a client base of approx 15,000. But the popularity and performance of the free web hosting sites aren't always related.
Features:
Faster servers
Multilingual cPanel
10 GB disk space
1 MySQL database
Limitations:
Worst uptimes and slowest server speeds
GoogieHost
Googiehost remains one of the best options for free web hosting sites providers. This free web hosting site offers cPanel and Cloudflare for free.
Features:
Unlimited storage
Free Website builder with 450+ Cloud Apps
Global Content Caching
Free Website Migration
2 FTP accounts
Limitations:
Strict rules about hosting multiple websites
Why We Recommend Avoiding Free Hosting Services
Although those above free hosting services providers are among the best, and some of them are the most reputable ones in their departments. But these free web hosting sites give their customers/ users slow and sometimes unstable websites. But if you want to test some new features on live hosting sites then you surely give these free website hosting and domain a try.
Note:- These free WebHost providers can delete your website any time without informing within seconds.
Best Alternatives for Free Web Hosting Sites
The Free hosting website might talk big, but at the end of the day will leave you with nothing but a website that somehow works. Every time their services are unable to meet even the basic standard required for hosting a website successfully. And there are actually some websites that offer free website hosting with custom domain names.
So, here is a list of cheap web hosting providers in 2020.
See Also: How to Install WordPress on Localhost
Frequently Asked Questions (FAQ)
? Is free web hosting sites are really free?
Yes, you can host your website here without paying any subscription fees. However, some of the hosting features are limited.
✔️ What is bandwidth?
It is the amount of website data that is downloaded while viewing a website.
? Will free web hosting sites put ads on my website?
Actually, it depends on your free web hosting sites provider. However, many free hosting sites that offer free hosting for a lifetime can put ads on your website.
❓ What is uptime?
Uptime is the amount of total time your website is online during the entire month.