Best SSD Laptops in India
The Solid State Drives or SSDs are the fastest forms of storage devices available for laptops out there. These drives give speedier boot times, faster read/ write speeds, and also increases the overall laptop's performance. In the recent past, laptops equipped with SSDs were expensive. Now, many companies have started utilizing this technology. However, the prices have fallen recently; thereby, many laptops companies ship there laptops and desktops equipped with the best SSD laptops India. Moreover, there are laptops with SSD and HDD out there that come equipped with both.
Table Of Contents
Best SSD Laptops in Budget in January 2020
1. Asus VivoBook 15
The Asus VivoBook 15 laptops have started gaining popularity slowly in the country. The computer also comes equipped with an i3 8th-gen processor, 4GB DDR4 RAM, and with 256GB SSD storage. And what interesting about this laptop is, it weighs only 1.7kg and is one of the best SSD laptops under 40,000with a price that attracts everyone. The Asus VivoBook 15 also comes with a fingerprint sensor on the keyboard itself and is very comfortable to type on for long hours.
2. HP 15s-DU0050TU
If you don't like paying a lot, then you can go for the HP 15 series. The laptop comes with an i3 7th-gen processor, 4GB of RAM, and with 256GB of SSD and 1TB of HDD storage. This laptop comes with the super-sleek design making it one of the best looking laptops in this range. This Hp 15S-DU0050TU device performs just as good.
3. Acer Aspire 3
Acer's Aspire 3 is one of the affordable laptops, which is fast and gets almost every work done. One of the best SSD laptops India under 40,000. This one's the best laptop on offer; the computer is equipped with i3 8th-gen processor, backed up by 4GB of DDR4 RAM, and 256GB of SSD storage. The Acer Aspire 3 is also the slimmest and lightweight laptop in the market right now. Besides, the laptop sports a Full HD display and a fingerprint sensor.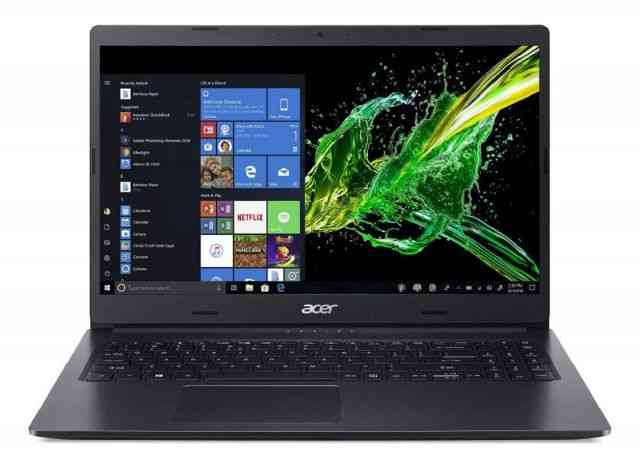 Best Mid-Range SSD Laptops
4. HP Pavilion x360
If you increase your budget slightly, I would recommend you to go for HP Pavilion x360. It comes with a 256GB SSD storage, and what's worth noting about this laptop is, it's a 2-in-1 laptop with a touchscreen and convertible body. The Pavilion series laptops are well known for its best design, display, keyboard, and everything. The specs are the i3 8th-gen processor and 4GB of DDR4 RAM. Moreover, this laptop comes with an active stylus free of charge.
5. Asus VivoBook 15 (i5 8th-gen)
Asus is again offering a top-level, premium laptop with the Intel Core i5 8th-gen processor. The Asus VivoBook 15 sports 8GB RAM and 512 GB SSD storage for running highly-intensive tasks. The most significant feature about this laptop is its 15.6-inch Full HD, anti-glare screen. This display is almost bezel-less and looks beautiful to which Asus calls it the NanoEdge display. Additionally, one of the best SSD laptops India is equipped with a backlit keyboard, fingerprint sensor, and superior battery life, among other laptops.
6. HP Envy 13
The HP Envy 13 is built with the bezel-less display. But that's not the only thing good about this device. It packs some of the serious hardware, an Intel Core i5 8th-gen processor backed by 8GB RAM. The laptop also sports a 256GB of super-fast SSD storage. The laptop has a 13.3-inch display, which is one of the best in the market. The best part is that this device weighs just 1.32kg.
7. Apple MacBook Air (2018)
The MacBook Air needs no introduction; it satisfies all your basic needs. This laptop delivers a high level of performance with its i5 5th-gen processor. The laptop comes with 128GB or 256 of SSD storage variants and 8GB LPDDR3 RAM. The device has a 1.6GHz dual-core Intel Core i5 with Turbo Boost up to 3.6GHz. The laptop also has an Intel UHD Graphics 617. If you're looking for a lightweight Apple machine, the MacBook Air is trustworthy for the price.
Best High-End Laptops with SSD
8. Apple MacBook (2019)
For those who want a laptop for professional use, creative tasks, the latest MacBook series from Apple are undoubtedly the ones for you to have a look at. The 2019 series MacBook offers hardware for diverse levels of tasks, i.e., any level tasks. Both the 13-inch variants, MacBook Air and the Pro, comes with an i5 8th gen processor joined with 8GB of RAM and 256 of superfast SSD storage. And if you want a larger screen, then you can also go for an all-new 16-inch MacBook Pro. It has a 1TB ultra-fast SSD, 16GB RAM, and i9 9th gen 8 core processor.
Buy Amazon – Rs. 1,13,990 (MacBook Air, 2019)
Buy Amazon – Rs. 1,47,839 (MacBook Air Pro, 2019)
Buy Amazon – Rs. 2,29,990 (MacBook Pro 16-inch, 2019)
9. Hp Spectre x360
This one's yet another most powerful and beautifully crafted laptop series by HP. This HP Spectre x360 has a convertible body with a touchscreen display having an excellent Full HD panel. Besides, the best SSD laptops India the Spectre x360 sports a 10th Gen Intel Core i7 processor with 16GB RAM and 512GB of SSD storage. This laptop can easily handle high resource tasks as you get an Iris Plus Graphics from Intel.
10. Asus ZenBook
The ZenBook series laptops come under the Asus's flagship laptops and are the best SSD laptops India available in the market right now. Asus has recently released its ZenBook Duo, which has a secondary display, as shown in the image below. Along with that, the device has the latest Intel Core i7 10th-Gen processor, which is just great. And, you also get a 1TB of SSD storage, 16GB RAM, and 2GB NVIDIA GeForce MX250 graphics.
Buy from Amazon – Rs. 1,03,067 (ZenBook 14)
Buy from Amazon – Rs. 1,05,990 (ZenBook Duo)
Best SSD Laptops India in January 2020
So, this was our best SSD laptop to buy in India in January 2020. With the powerful SSD, your new laptop booting speed and performance will be better. So, any laptops mentioned above catch your eye? If you got any suggestions for us, then share it in the comment section below.