No doubt, Turbo VPN is by far the best VPN alternatives on the Google Play Store with over 100 million+ downloads. Turbo VPN is the most popular free VPN app for android and iOS. But every free thing isn't always free; there's something fishy about it — a report suggested by Security Affairs that one of the Chinese companies owns 10 VPN applications, including TurboVPN. Now the question arises turbo VPN safe?
Turbo VPN wasn't trustworthy, had suspicious background activity on Android & iOS devices. Moreover, it doesn't have a minimum security rating score. Having said that, if you are worried about your privacy, it's time to move to other alternatives to VPN.
8 Best Turbo VPN Alternatives for Android & iOS devices in 2023
NordVPN
NordVPN is the best of its kind, this is by far the fastest VPN I've ever come across. The prime selling point of NordVPN is the ease of usage, as the software is available on Windows, macOS, Android, & iOS devices. Moreover, you also get an option to configure this tool directly on your home/ office router and secure every device connected.
The only downside I found was it doesn't have a dedicated app for Linux but you can use its NAS i.e; Network Attached Storage hardware for accessing it.
NordVPN has an advanced feature – Kill Switch which kind of blocks traffic if the VPN gets disconnected.
You might also be wondering Which is better NordVPN or Turbo VPN? – The answer to your question is both are best in their own way, and it depends on your specific needs and budget
As you have already guessed with the name this FastestVPN is actually the fastest virtual private networks software for Android, iOS, Windows, and Mac PCs. The company is based out in the Cayman Islands. The cool feature of this VPN that you might be interested in is, FastestVPN unlocks Netflix Geo Locked Shows/ Movies with unlimited bandwidth and a dedicated 24/7 server for US Content.
FastestVPN currently serves there users with a network of more than 250 servers in 31 countries. Here is the list of countries that are currently supported –
Apart from all that, this FastestVPN also offers a built-in adblocker to get rid of those unwanted advertisements and pop-ups on the go on all devices.
Psiphon Pro
If you are looking for one of the best turbo VPN alternatives that offer good speed with unrestricted data and several servers worldwide, then Psiphon Pro is my first recommendation for you. The company is based in Canada. Initially, the company Psiphon Pro VPN was started as a proxy system at Toronto University but now has worked its way to a complete VPN app for Android and iOS. Unlike TurboVPN, Psiphon Pro is completely open-sourced and utilizes multiple HTTP Proxy, SSH, and Tunneling technologies.
Moreover, you won't have to compromise with the data limit; however, the speed is limited to 2MBps. Despite being one of the best alternatives to TurboVPN, the Psiphon Pro privacy policy clearly states that they did share any metadata or data size with any third parties.
Psiphon Pro – Alternatives to Turbo VPN
Download Psiphon Pro
Android / iOS
(Free and in-app purchase)
Windscribe
Windscribe is yet another alternative to Turbo VPN; it offers over ten countries worldwide. However, there's around a 10GB data limit per month. It's quite obvious since you get high-speed access to different VPN servers without any speed cap.
To use Windscribe, you will have to create a user account to use the free VPN service. With the Windscribe VPN, you can use OpenVPN, IKEv2, and SOCKS5 protocols. Above all, this is by far the second-best Turbo VPN alternative that offers data allowance.
Download Windscribe
Android / iOS
(Free and in-app purchase)
TunnelBear
TunnelBear is originally a premium VPN service that offers 500MB of data a month for its free version. However, when you choose the premium plan, you get top-level security with unrestricted data. You get all-around AES 256-bit encryption security; apart from all that, it also provides DNS leak protection.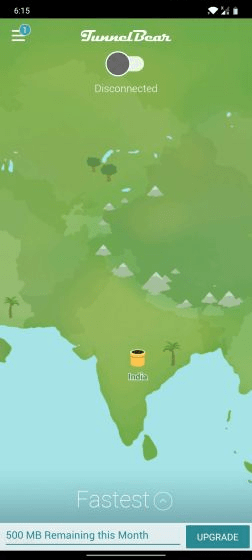 There's a quick trick if you exhaust all your data, you can share the app on social media to earn more free data. In case you are wondering about the origin of the app, it is headquartered in Canada.
Download TunnelBear
Android / iOS
(Free and in-app purchase)
Suggested – Google Drive Alternatives
ProtonVPN
If you are starting an alternative to Turbo VPN that offers unrestricted data and has an adequate number of servers with good speed worldwide. ProtonVPN has made its place in this Turbo VPN alternatives list. With ProtonVPN, you get multiple free servers from three significant locations like the US, Japan, and Netherlands.
Proton VPN has also open-sourced its VPN tool making it more trusted and reliable than all other VPN apps available in the market. Apart from all that, the company is headquartered in Switzerland, so all your data are protected by the EU's privacy laws.
Download ProtonVPN
Android / iOS
(Free and in-app purchase)
Betternet
Betternet VPN is my last pick in this list of alternatives to TurboVPN for two important reasons. First, it offers unlimited data without having you compromise the security in any manner. Secondly, you don't need to sign up to use Betternet services. And on top of that, Betternet is somehow similar to Turbo VPN alternatives but with enhanced security features.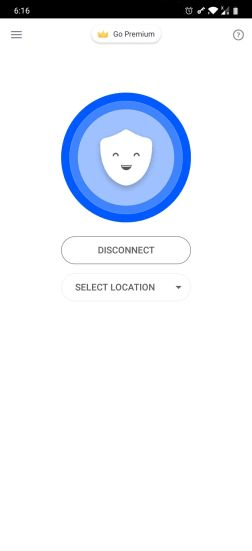 But the downside of using Betternet is that it doesn't allow you to select a location manually. It automatically chooses the optimal location for you, and you might get annoyed with several pop-ups for their paid plans offers.
Download Betternet
Android / iOS
(Free and in-app purchase)
Browse the Internet with the Best Turbo VPN Alternatives in 2023
So, these were our best picks for alternatives to Turbo VPN that you can use in 2021 on Android & iOS devices. If you find other turbo VPN alternatives, do share them in the comment section below.