Most of you have encountered hard drive failures, and unfortunately, without any prior warnings or notifications, and lost their precious data. We've all fallen victims of hard drive failure as well. In this article, we are going to have a look at the best free backup software for windows 10 in 2021.
If you've already faced hard drive failures, you already know the importance of apps backup software for protecting your data/ files by backing up your relevant data or even trying to recover data using data backup software.
If by any chance, you're still not backing up all the important stuff on your computer, this is an excellent time to start looking for good, free backup software for your computer. Backing up your important data also comes as a lifesaver in case you fall victim to ransomware like Petya 2.0 and WannaCry. At least you'll have a chance of recovering data if something goes wrong. Your data will be safe and secured if you backup your data regularly. Keeping all these things in mind, we've prepared a list of auto backup software for windows.
Best Free Backup Software for Windows
1. EaseUS Todo Backup
EaseUS Todo Backup is the best feature-rich and easy to use backup tool for Windows. EaseUS Todo comes in with three different options (i.e., full, differential, and incremental), and the disc imaging comes with an opportunity to create a Linux based boot disc. It can help you quickly recover data if something goes wrong with your hard drive. By default, this app is set to perform a full backup every week, and differential backups every 30 minutes if it detects any change in your system. The Best Free Backup Software for windows also allows you to encrypt the entire system image for more security, and can also be compressed at a reasonably high level for less space on the disk.
EaseUS Todo Backup allows users to backup Android devices on the go. You can also split disk images into smaller segments, and set passwords to protect your precious data. This app also has a unique cool feature "Image Reserve option" that allows users to easily merge old system images to help save more drive space while taking backups. Moreover, the best feature of the EaseUS Todo Backup is its ability to clone the system Windows Installation to another HDD or SSD. This feature is, however common for most backup utilities, but this EaseUS todo backup provides it in the free version of the best free backup software for windows.
Download (Free, Paid version $29.95)
2. AOMEI Backupper Standard
AOMEI Backupper Standard is also an excellent tool for backing up data for Windows OS that comes with a handful of features. You can copy entire partitions or copy files and folders manually or at either scheduled intervals. Similar to EaseUS Todo AOMEI Backupped also offers you the option to perform incremental and differential backups. This means when you're done with the full backup of your files the first time, the amount of time subsequently reduces significantly. Just like the EaseUS, it also offers full encryption and password protection, and can also mount a backed-up image as a local virtual drive.
Well, you can also create full system images with the AOMEI, but you can't clone your system portion as in EaseUS. Most free backup software for Windows doesn't offer these features but is only available in the Paid versions.
Download (Free, Paid Version $49.95)
3. Macrium Reflect
Macrium Reflect is no doubt one of the best free backup software for windows available on the internet right now. It has several lists of endless features, but the software is complex to understand. It is originally designed for professionals, but general users can also utilize this tool for creating a complete backup of their PC. The best thing about this backup tool is, you can easily create a full backup, clone a disk, and also set scheduled backup and lot more with the best free backup software. Macrium Reflect comes with both free and paid versions.
To learn more about the process of installation, you can go through this detailed article on how to create a full backup on windows 10 pc.
Download (Free, Paid Version starts at $69.95)
4. Acronis True Image
The Acronis Ture Image is another one of the advanced backup tools for Windows and offers secure backup via the AI. Unlike other backup tools, it brings both local and clouds storage options. As for different backup methods, you can additionally copy system images, clone disks to any removable storage. Acronis True Image also offers three backup systems (Full, Differential, and Incremental).
Keep in mind, this software doesn't have a free version but offers a free trial for 30 days. So, if you are looking to clone the full system image, then you should give this tool a try.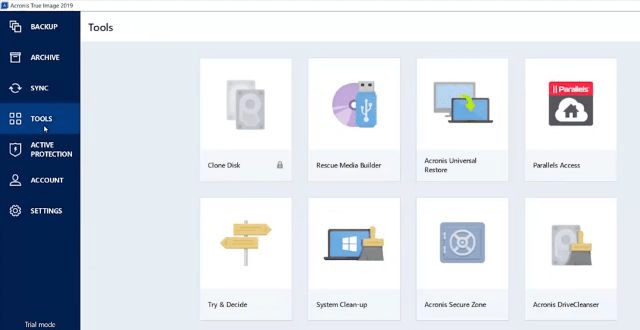 Besides, the best part of Acronis is that it offers complete cybersecurity protection against any crypto-jacking, malware, and ransomware. The company also claims that it uses AI to safeguard users' data. Since the software provides cloud storage, the user can access their data from anywhere.
Download (30 days Free Trial, Premium version starts at $34.99)
5. O&O DiskImage
O&O is also known for making some of the most reliable Windows tools, which are very easy to use. The O&O DiskImage is one of the best consumer-friendly backup software. It allows users to create backups of all the drives in a single click, and you have the option to select specific files and folders. It also has an option to clone the system image, and it can be easily moved to another PC without having to change Registry files. This tool only offers 30 days free trial period similar to Acronis True Image.
Apart from all that, it offers an option to encrypt and protect your backups data from any unauthorized access. And one of the exciting features of O&O DiskImage is you can create a whole Windows-PE based recovery media that can be booted via a bootable drive.
Download (30 days Free Trial, Paid Version starts at $49.95)
6. Windows Native Backup Tool
If you are searching for a free backup tool for Windows, then you can use the Windows Native Backup tool that comes with Windows 7 and 10. With this native backup tool, you can easily backup all your files, folder, and drives to an external drive. It is one of the best free backup software for the window. And it does come with essential features. You can easily customize when and how frequently the backup will start. So, if you want to use this native tool, head over to Windows Settings > Update and Security and then go to the Backup tab.
Besides, you can also use the Backup and Restore. It's an older way to backup your pc but offers complete system mirroring; it will copy all your files and folders and your OS too. So, if you are moving to a new PC, this handy tool can help you to do that easily without having to pay anything.
Choose from these Free Backup Software for Windows
I use the EaseUS Todo Backup tool, as it offers free premium features that help migrate from OS and files from one HDD to SSD drives. It can also be used as a USB backup software. So, if you use any aforementioned backup apps free download free backup software, let us know in the comment section what you think the tool must also have?
Suggested: Best Game Recording Software
FAQs
What is Backup Software Used for?
Backup software is used for creating a backup to prevent data loss.
How does backup software work?
Backup software work as a surety for your data whenever your system or file backup has corruption or a hardware failure.
What is the easiest backup software?
Acronis True Image and EaseUS ToDo Backup are the easiest backup software in 2021.