Top Free Backup Software for Windows in 2023 Hard drive failures can strike unexpectedly, causing the loss of valuable data. Whether due to hardware malfunctions or cybersecurity threats like ransomware, safeguarding your important files is crucial. In this article, we'll explore the best free backup software options for Windows 10 in 2023.
If you've ever experienced a hard drive failure, you're likely aware of the necessity of backup software. These tools provide a safety net by creating copies of your vital data, allowing for data recovery and protection.
If you're not already using backup software to secure your important files, now is an ideal time to start searching for reliable, free options. Beyond hardware failures, these tools can shield you from the likes of ransomware attacks such as Petya 2.0 and WannaCry. Having up-to-date backups ensures that you have the ability to recover your data if the unexpected occurs. With this in mind, we've compiled a list of the best free backup software for Windows.
Top Free Backup Software for Windows
1. EaseUS Todo Backup
EaseUS Todo Backup remains a feature-rich and user-friendly backup solution for Windows. Offering full, differential, and incremental backup options, this tool even allows you to create a Linux-based boot disc. It comes with preset schedules, performing full backups weekly and differential backups every 30 minutes when system changes are detected. This software also enables the encryption of system images for enhanced security and compression to save disk space.
EaseUS Todo Backup introduces versatility by enabling Android device backups on the go. You can split disk images into smaller segments and set password protection. A standout feature is the "Image Reserve option," which merges older system images to conserve drive space during backups. Moreover, EaseUS Todo Backup offers the ability to clone Windows installations to different drives, a feature that's often limited to paid versions in other backup utilities.
Download (Free, Paid version $29.95)
2. AOMEI Backupper Standard
AOMEI Backupper Standard is another robust backup tool for Windows OS, offering an array of features. You can copy entire partitions or specific files and folders manually or on a schedule. Similar to EaseUS Todo, AOMEI Backupper supports incremental and differential backups, reducing subsequent backup times after the initial full backup. It also provides encryption, password protection, and the ability to mount backed-up images as virtual drives.
While AOMEI Backupper lacks the system cloning feature found in EaseUS Todo, it remains a comprehensive option for Windows users. Note that system imaging and cloning features are often exclusive to paid versions of similar software.
Download (Free, Paid Version $49.95)
3. Macrium Reflect
Macrium Reflect stands as a powerful free backup software for Windows, boasting a plethora of features. While its complexity may appeal more to professionals, general users can also benefit from its capabilities. This tool facilitates full backups, disk cloning, and scheduled backups, among other features. Macrium Reflect offers both free and paid versions.
For detailed installation instructions and guidance on creating full backups on Windows 10 PCs, refer to this comprehensive guide.
Download (Free, Paid Version starts at $69.95)
4. Acronis True Image
Acronis True Image is an advanced backup tool offering secure backup through AI technology. It supports both local and cloud storage, distinguishing it from other tools. In addition to conventional backup methods, you can copy system images, clone disks to removable storage, and choose from full, differential, and incremental backup options.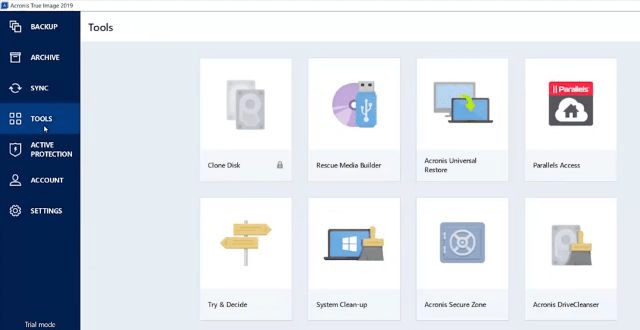 While Acronis True Image lacks a free version, a 30-day free trial is available. Its advanced features include cybersecurity protection against malware and ransomware, leveraging AI for enhanced data security. Cloud storage allows users to access their data from anywhere.
Download (30 days Free Trial, Premium version starts at $34.99)
5. O&O DiskImage
O&O DiskImage, known for user-friendly Windows tools, offers a straightforward backup solution. It enables one-click backups of all drives and allows you to select specific files and folders. The tool supports system image cloning and easy transfer to other PCs without altering Registry files. O&O DiskImage offers a 30-day free trial, similar to Acronis True Image.
Aside from these features, O&O DiskImage provides encryption for data protection and allows you to create a Windows-PE-based recovery media for bootable drives.
Download (30 days Free Trial, Paid Version starts at $49.95)
6. Windows Native Backup Tool
Windows offers its own native backup tools, particularly the Windows Native Backup tool included with Windows 7 and 10. This tool enables you to back up files, folders, and drives to external storage. While it lacks the advanced features of third-party tools, it provides essential backup functionality.
Alternatively, you can use the Backup and Restore feature, which mirrors your entire system, including files, folders, and the operating system. This is a helpful option when transitioning to a new PC.
Are you running out of storage? Do Check out our detailed guide on how to combine two SSD drives as one and enjoy more disk space.
Opting for Free Windows Backup Tools
Personally, I recommend using EaseUS Todo Backup due to its advanced features, such as migrating OS and files between HDD and SSD drives. It also supports USB backups. If you've tried any of the aforementioned backup apps or other free backup software options, share your thoughts in the comments section below.
Suggested: Best Game Recording Software
FAQs
What is Backup Software Used for?
Backup software is used for creating a backup to prevent data loss.
How does backup software work?
Backup software work as a surety for your data whenever your system or file backup has corruption or a hardware failure.
What is the easiest backup software?
Acronis True Image and EaseUS ToDo Backup are the easiest backup software in 2023.