I will just be straight with the best camscanner alternatives and why you should consider using an alternative for camscanner.
Last year Government of India banned 60 Chinese apps citing security and privacy concerns. This ban resulted in banning 118 apps in the next two months in July and September. And since then the number of banned apps has grown over time, the lists include popular games, web browsers, file sharing apps, and yes Camscanner too.
Why you should consider using CamScanner Alternatives
CamScanner was an excellent app back then for scanning any documents. But it was found that it introduced malicious malware that can easily display intrusive ads on your Android smartphones. Since then, Google has also removed CamScanner from the Google PlayStore, and you should also uninstall the Cam Scanner app.
Top 5 Best Camscanner Alternatives
Now, let's go through the list and find the best replacement of camscanner app for you.
Google Drive
Google Drive also has a built-in scanner in the app. You have to tap the plus button, and you can scan documents, receipts, and notes. Let me keep this straight, Google Drive is not as feature-packed as the Cam Scanner but offers a simple scan n upload feature which can come handy for people looking for a simple scanner app. Google Drive can be a suitable replacement.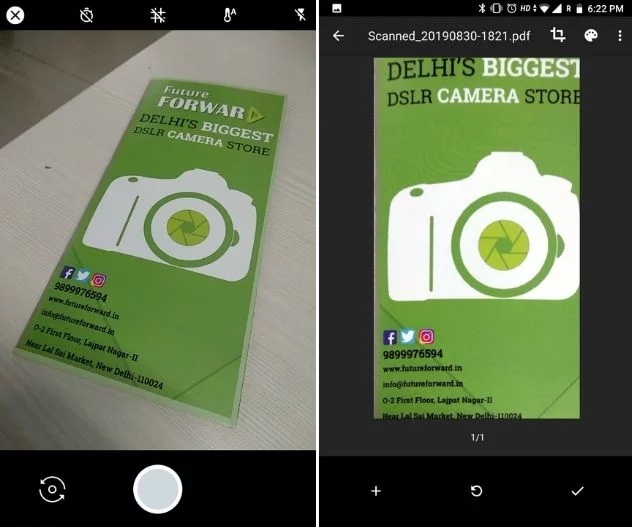 Pros
Simple document scanner
Decent automatic edge detection
Upload scanned files directly to Google Drive
Cons
Not feature-packed like Cam scanner
Download: Android, iOS (Free, in-app purchases)
Android Scan
This Adobe Scan is among the top and the best apps better than cam scanner options, if not the best. As Adobe, a document management app, the app is packed with numerous features. You can even scan documents, receipts, notes, ID cards, or just about any paper document with its smart scanner. It can recognize the type of material and exceptionally crop the image around the corner, saving you both time and hassle. The application also has various options to enhance the quality of the scanned documents.
The best part about the Adobe Scan is that it is the best alternatives to cam scanner, where you can extract texts from documents (OCR) because of which CamScanner was very popular. Apart from that, you can easily export the scanned documents either in JPEG or PDF format. Unlike CamScanner, Adobe Scan won't insert a watermark because of which it can be considered as a scanner alternative, so that's awesome.
Pros
Powerful document scanner
Automatic Edge detection
Supports OCR
Save as JPG and PDF
Share files through email and cloud
No watermark
Cons
Need to create an account
Download: Android (Free), iOS (Free and in-app purchases)
Scanbot
Scanbot is a trendy application for scanning and creating PDF files. It can unmarked scan documents, ID cards, receipts, whiteboards, or QR code, and more. Scanbot has smart edge detection and auto-crop functionality, which are as good as Camscanner. The distinctive feature of Scanbot is that it can even search for files by looking for text in documents, which Camscanner lacked.
Pros
Powerful document scanner
Great automatic edge detection
Supports OCR
Batch scanning
Document annotation
No watermark
Cons
A bit expensive for the premium version
Download: Android, iOS (in-app purchases)
Microsoft Office Lens
The Lens is another powerful and best free application like camscanner that you can surely go for. Microsoft Office Lens offers a much better and cleaner experience. The Microsoft Office Lens can also scan handwritten notes, whiteboard tables, and diagrams and make it readable. You can access your scanned documents/ images on the cloud storage via OneNote or even export them either in your image gallery or as a PDF file. Microsoft Lens is a powerful scanning image/ documents app.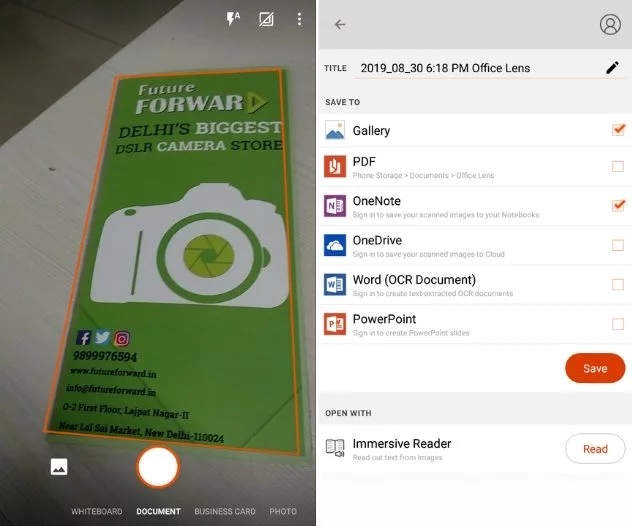 Pros
Best document scanner, basically for Microsoft Office users
Great automatic edge detection
Supports OCR
Document annotation and collaboration
Export as JPG and PDF
No watermark
Cons
Evernote
If you own an iPad or an iPhone, Evernote Scannable is one of the best applications out there for scanning documents. In comparison to the CamScanner, Evernote Scannable offers you a similar feature and with excellent user experience. You can scan business cards, scan notes, receipts, and other documents with great clarity. It also has a smart edge detection and also crops the image automatically. It also uses intelligent edge detection and crops the picture automatically. You can also save the scanned documents in your gallery or export those as PDF files.
Pros
Best document scanner application for iPad and iPhone users
Smart edge detection
Share files to the cloud
Save as an image or PDF file
No watermark
Cons
Does not have OCR support
Download: Android (Comes built-in with scanning feature), iOS (Free, in-app purchases)
See Also: Best G-Board Alternatives for Android devices
Our Recommendations
So that was our list of 5 best CamScanner alternatives that are quite powerful and also shares a similar set of features. Some apps are complete scanner apps in itself, and there are some which are particularly good at scanning and seamless sharing. I would suggest using Google Drive as camscanner alternatives for scanning your documents. Depending on your requirements, you can pick a desired app from the list. I am pretty sure you won't be disappointed. Well, that was all from our side. If you want to see more alternatives to popular apps, do let us know in the comment section below.
FAQs
Is CamScanner banned in India?
Yes, the Government of India has banned CamScanner because of its connection with chinese.
Is CamScanner banned in USA?
After banning TikTok and WeChat last year, the president of US has now banned 8 more widely used apps including, CamScanner, Tencent QQ, SHAREit, Alipay, VMate, and WPS Office.
Should I delete CamScanner?
As of now I would suggest deleting the app until a new patched version is released on the Play Store.