Although Rabbit was one of the popular streaming platforms, users loved to interact and watch content with friends and family. In this article, we have noted down the 10 best Rabbit alternatives in 2022. The rabbit was formerly known as Rabb.it TV, it was a world-class app for watching movies and shows with friends or family in real-time.
However, Kast tried their best to add some new features, but users are having a second thought about it. If you are unaware of what is Rabbit watch together? And How does rabbit streaming work? Here you will find list of 10 best rabbit alternatives and I'll help you find a suitable online video sharing similar apps like Rabbit.
Why go for alternatives to Rabbit?
You should consider looking for alternatives as the rabbit was shut down because a round of VC funding had failed in May 2019 and finally in July 2019 the site ceased all its operations.
Rabbit Alternatives: List of 10 alternatives to Rabbit (2022)
It was such a time when rabbit used to work amazing for users but after its shutdown users started looking for the best screen sharing websites like rabbit. If you are already on a hunt to find the top rabbit alternatives then below is the list of the top 10 streaming websites like rabbit in 2022 that also provide option to chat with people while watching movies online.
Teleparty (Formely Netflix Party)
Netflix Party is also a similar app like Rabbit. Netflix party is a Google Chrome extension before you start sharing, you and your friends need to install this extension for streaming content. It allows you to stream Netflix together with synchronized playback. To add more fun while watching movies with friends, the extension has chat features with support for GIFs, emojis, and typing indicators.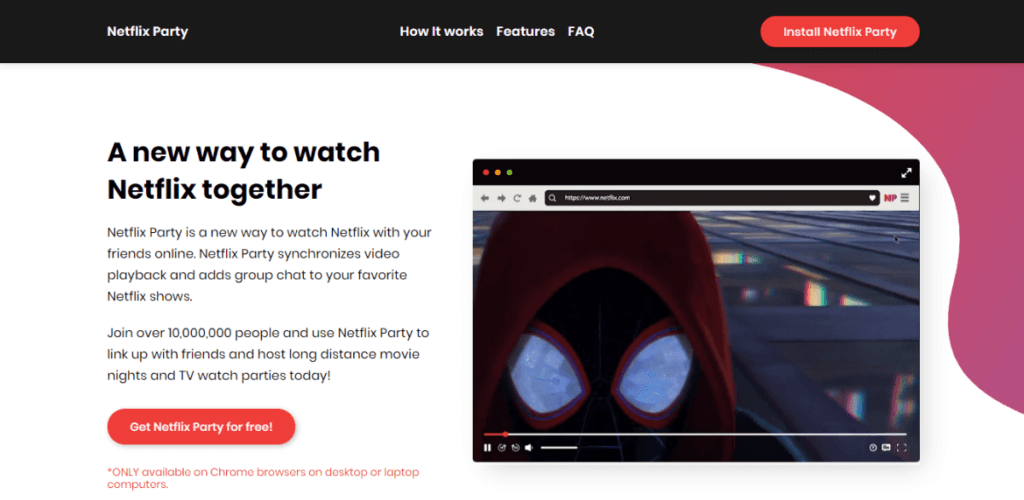 Pros
Best video playback sync for Netflix users
Chat supports GIFs and emojis
Cons
No audio video chat support
Only limited to Netflix.
Invited
Invited is a rabbit tv replacement you've been looking for. Users can create their room and take turns who controls the virtual browser to surf and stream video together. It offers high-quality audio and video experience for your movie-watching needs. Invited works well with Netflix, Crave, and Crunchyroll. This is the one app like Rabbit that can be trusted on.
Features
Private rooms
Free virtual machines
Integrated chat with the control sharing function
Room capacity – 50
Features that are under development
Support for desktop and mobile apps
Emoji and GIFs
Audio and Video chat
This app is free to use. However, there's an optional subscription plan for $5 per month and a $50/ year that allows you to skip the line during peak hours on the app.
Twoseven
Twoseven is yet another alternatives to rabbit which is a real-time video sharing platform. Unlike Rabbit, twoseven does not have a live audio commentary option. However, it focuses on live webcam reaction, real-time experience with zero latency, and it also has support for top online streaming services.
In case you are wondering – Twoseven also has support for Amazon Prime Video, Netflix, YouTube, Hulu, and more. , if you are looking for another site like Rabb.it that works similar to Rabbit without compromising the live streaming experience then Twoseven is a solid choice.
Pros
Excellent performance without latency
Live webcam reaction
Supports all video streaming platforms
Must Read: Check out the best Rufus Alternatives (Expert's Recommendation) here!
ShareTube
ShareTube is the best alternative to rabbit that you can find after the Netflix party. It also allows you to create chat rooms, just like other rabb.it apps. With ShareTube you can too sync your YouTube videos with other similar streaming services like Rabbit alternatives and create your youtube playlists. You can use ShareTube without having to create an account.
Pros
Best for watching YouTube together
Video Sync playback is pretty good
Option for chat support
Cons
No audio or webcam support
Limited to YouTube video playback only
Rave
Rave is another wonderful rabbit alternative for smartphone lovers. It has all the standard support features for YouTube and it also lets you watch Netflix with friends online, and many other online streaming platforms. Just Similar to Rabbit, you can watch and stream content from Google Drive, Dailymotion, Vimeo, and more. The sync playback with low latency tops it as the best alternative app in 2022. You can sync several smartphones to create a powerful speaker for your entertainment.
Pros
Best alternatives to Rabbit for smartphones
Play music together
Turn your smartphone into a powerful speaker
Cons
Synatop
Synatop is another web-based application similar to Rabbit, that allows you to watch videos with friends and family together via remote connection. You have to create a user account first to use Synatop, after that, add the apps you would like to stream with friends. Moreover, you can also play games, watch movies, listen to music, and more.
Synatop is entirely based on the web; hence you won't have to download anything. You can share all types of content via a remote desktop platform. But there's a catch with synatop; you can only stream movies that are available on the website.
Wondering Should you uninstall Zedge Harmful App or not? Or want to know What is the safest ringtone app, fret not! Check the linked article here!
Together TV
On this online video playback tool, Together TV helps you get synchronized video playback via the web-based interface. It is also one of the few best alternatives to Rabbit platform. Together TV allows you to stream content from Netflix, Hulu, and other premium paid streaming services.
You can use this website to play random videos, or you can stream videos and music from your pc directly and stream it with your friends. Moreover, you don't have to share your email account to use it. One of the best features of Together TV, an app similar to Rabbit is you can make audio chat with your friends and family for free.
Learn How to Link Facebook to Instagram?
Tutturu
Tutturu.tv is a shared web browsing service similar to Rabbit (aka Rabb.it).
Invite your friends/ family and create rooms and you are ready to go. Tutturu.tv offers everything a Rabb. It user cares about! Including:
Private rooms and browse with free virtual browsers
Audio and text chat
These are the features to be added in Tutturu:
Public rooms!
Support for smartphones (iOS + Android)
Video chat
Tutturu is free! Free users may need to wait in line for premium features—a minimum of $5/month.
AnimeParty
AnimeParty is a website that is incredibly dedicated to streaming and watching Anime content. You can also create a private room and then share your content with your friends or a close one.
AnimeParty can also be used as a group chat feature in this anime party so you can stay connected with your friends. AnimeParty is one such alternative that is specially designed for watching Anime.
Alternatives to Rabbit
So, these were the 10 best alternatives to rabbit you can use for streaming and watching videos with family and friends. If you like our article, do comment below and let us know, and share these ten best rabb.it alternatives with your friends.
What is Rabb.it?
Before I start to list down rabbit streaming alternatives and rabbit alternatives, you may be wondering what this platform is and what is it used for. Rabb.it is also known as Rabbit was a video streaming website and mobile app that allows you to remotely watch online content.
However, if you are looking for streaming movies online then this is the right platform for you, one of the remarkable thing about this online movie streaming site is that you just need to sign up using your email account and you can watch movies online using these alternatives.
How does the Rabbit app work?
Launch rabbit app or go to website
Sign up and enter your information like First name, last name, username, email, and password
Click on the rabbit icon and then click on Rabbitcast Launchpad
Search for any show you want in the search box below and click on the Go button.