You'll have to close your Microsoft account in order to delete Outlook account.
Click on Start button, and then select Settings > Accounts > Email & accounts.
Select the account you wish to delete from Email, Calendar, and Contacts, and then click on Manage.
Next, click on the option to delete this account from this device. Select Delete to confirm.
How to delete Outlook account after deleting your Microsoft account?
If you wish to delete your Outlook account, first you will have to delete your Microsoft account. Follow the steps below to close it.
1. All you need to do is go to this page.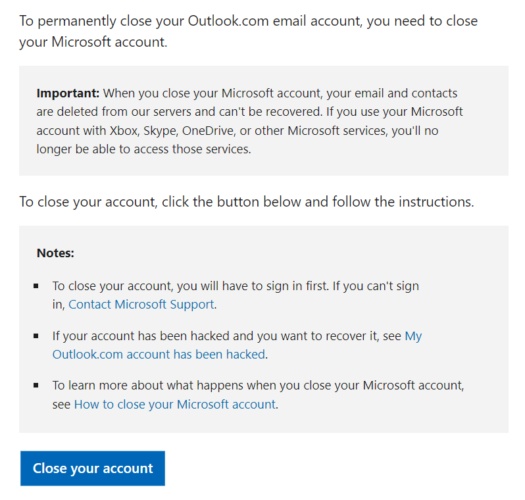 2. As an alternative, if you don't want to do delete your account, you can just unlink your email address from Outlook.
Steps to Delete Outlook Account by Removing Email Address
However, if you want to keep your Microsoft Account, here's how to remove your email address from Outlook:
1. Log in to your Outlook account and click on the gear icon available in the top right corner.
2. Click on "View all Outlook settings."
3. Now, Select "Sync Email" from the "Mail" menu in the far-left sidebar.
4. To delete a linked account from your Outlook account, click the Trash symbol next to it as shown in the image below:
There are times when you won't find your email account present in that case, you will have to delete it from Mail and calendar apps respectively. Or try updating your outlook app, you will get the option to delete your email address from the app.
How do I delete my email account permanently?
There is no way to permanently delete your email account. Even though you delete it and then make a new one, anyone who knows the email can still access it.
Can I just delete outlook?
No, you can't just delete Outlook account and not have to use it again. It is part of your Windows installation and is used for a lot of different things.
What happens when you delete an Outlook email account?
If at any point you delete an outlook email account, all of your emails, calendar, and contacts are immediately deleted. You can only recover your emails if you have a backup of your outlook account.