Google Chrome remains one of my favourite web browsers across different platforms (from the macOS to Windows and from Apple iOS to Android). Don't get me wrong! when I talk about certain features like Google Suggested Articles that have often wanted me o look for alternatives. Whenever I open a new tab n chrome, too many suggested articles. That's why it led me to explore a way to hide Google Chrome's recommended items on the iPhone and Android.
If you also like to have a clean tab, jump right in as I show you how you can easily disable article suggestions in chrome with ease. If you haven't played this Chrome 3D T-Rex runner game that is far better than the 2D T-Rex runner. Know more about it here! Well moving on to removing Google Suggested Articles from Android as well as iOS devices.
Hide Google Suggested Articles on the iPhone and Android
Google Chrome offers a very straightforward way to turn off article recommendations on iOS (and iPad) devices. But surprisingly, the web browser doesn't provide a native feature to disable this article suggestion feature on Android devices. There is a simple, quick trick to remove suggested articles. Having tried this method on my Android device, I can vouch for its reliability. That said, let's get going!
Turn Off Google Suggested Articles on iOS and iPadOS
Open the Google Chrome app on your iPhone or iPad.
2. Now, tap the three horizontal dots at the bottom right corner of the screen and choose Settings in the menu.
3. Next, toggle the Article Suggestions button. Then, make sure to tap on the Done button on the top right to finish.
Also, read details on how to stop websites from opening in new tabs in Google Chrome or Mozilla Firefox browser.
Disable Chrome Article suggestions using Google Chrome-Flags on Android
Chrome flags are well known to solve quite a few riddles like removing the suggested articles feature.
1. Open the Google Chrome browser on your Android device and then enter chrome://flags into the URL bar and then press Return/Go.
2. Now, search for #enable-NTP-remote-suggestions into the search bar.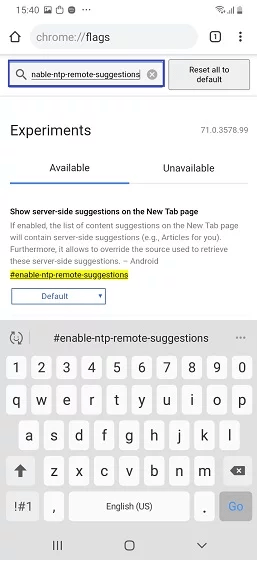 3. Next, tap on the drop-down menu placed under the Show Server-Side Suggestions and choose Disabled to remove suggested articles.
4. Finally, tap on the Relaunch Now button to apply the changes. Chrome will then restart, and you'll see the changes into effect instantly.
Permanently Disable Google Suggested Articles
So, that's an easy way to come across how to hide Google Suggested Articles using the aforementioned steps. Just like you, I also wonder why does desktop chrome suggest articles and why Google doesn't offer a simple way to disable this feature on its Android version. Hopefully, the search giant gets it right before it gets later. That was all about Hiding Unwanted Articles, have you any feedback for us? Drop it in the comments section below.