Are you having problems with Fortnite Crashing on PC? If that's the case, in this article I'll be guiding you on how you can fix Fortnite Keeps Crashing issue easily using 4 simple steps.
Fortnite was released in 2017 by Epic Games and since then some of the users started reporting about Fortnite randomly crashes while playing games and that is very annoying to the users. Although the game is not available on other platforms officially, however, there's a workaround. Chromebook users can now play Fortnite on Chromebook with these simple tweaks.
Reasons Why Fortnite Keeps Crashing on PC 2021
Your Fortnite game keeps crashing because the game might be running on high graphics settings. Also, there are times when your PC runs out of memory or if you have overclocked your CPU, and to compensate for that the Windows 10 Operating System tries to close all the other applications. And while doing so it tries to close all the applications abruptly and end up crashing some applications.
Once the Fortnite game crashes you won't be able to save and play the game. However, you can try these steps below to avoid Fortnite from freezing your PC in the future.
Switching from Windowed to FullScreen in Fortnite
In some cases, Fortnite might crash when you switch from Full Screen to Windowed or vice versa.
Run Fortnite and go to Game Settings.
In the Video game, change Windowed Mode to Full Screen or other.
Save Settings & play the game.
If the game doesn't crash, keep the current settings and start playing.
Change Graphics Settings to fix Fortnite from crashing
If your Fortnite games keep crashing, you may need to change the game graphics resolutions.
Launch Fortnite and head over to Game Settings
Select Video and decrease the Quality setting.
Click on Save and Restart the game.
Try different screen resolutions and graphics setting to test which of the settings is causing the problem. However, it is not advised to set graphics settings & screen resolutions lower than the Medium settings. Fortnite might run into another issue.
Update Graphics Card Driver
An outdated or corrupted graphics card driver can also be one of the reasons why my Fortnite keeps crashing. Now to stop random Fortnite crashes you should update or reinstall the graphics driver.
Follow the steps to Update Graphics Driver on your PC
Step 1: Press Windows + R button to open Run Window. Then type in devmgmt.msc and hit enter to open Device Manager.
Step 2: Click on the arrow on the left side of Display Adapters to expand it.
Step 3: Now, right-click on your graphics card and select Update Driver, and choose Search automatically for updated driver software and follow on-screen instructions.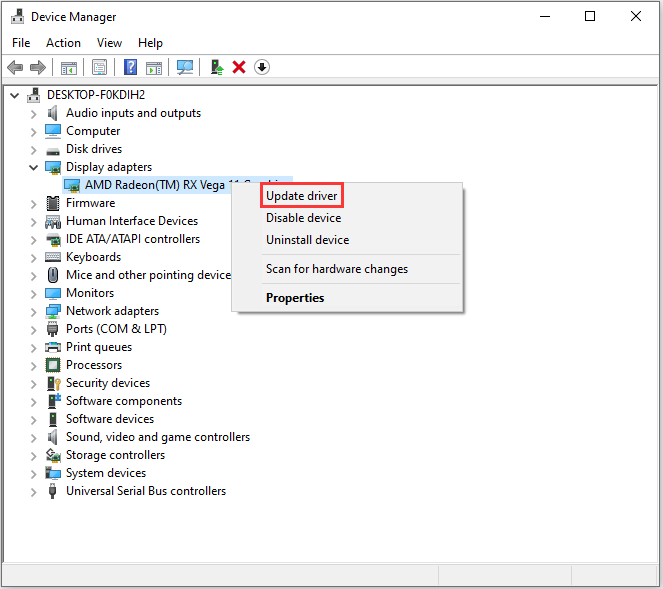 Once the update is complete you can now restart your computer to check if the issue has been fixed. If somehow the Fortnite keeps crashing after the driver update you may want to consider reinstalling the graphics drivers as well as Epic games launcher.
Turn off Timeout Detection to Fix Fortnite Keeps Crashing on PC
This is the final trick that you can use to fix Fortnite Keeps Crashing on PC issue. All you need to do is Turn Off Timeout Detection. If ignored these settings might cause Fortnite to Crash. Follow the steps to turn off Timeout & Recovery in Windows:
Before proceeding with the steps, you must create a restore point by following the steps below:
Press Win + R key to launch Run Window and type in regedit and hit enter
Now, Navigate to HKEY_LOCAL_MACHINE\SYSTEM\CurrentControlSet\Control\GraphicsDrivers.
Look for TdrLevel and double-click on it.
Add value '0' and click on OK.
Once, done reboot your computer for the changes to take place.
How do I fix Fortnite crashes?
The very common fix that you can try is to reinstall Fortnite. Follow the steps on how to uninstall the application for Android & iOS.
Reinstall Fortnite on Android and iOS
Tap and hold on to the Game icon.
Now, tap on Uninstall/ Delete (Depends on your OS)
Go to the Epic Games website, download the installer, and reinstall the Fortnite game.
This is how you can easily fix Fortnite Keeps crashing on PC and you can play without having to worry about Fortnite crashing. Do you have any other solution for Fortnite, do share in the comments section below.