If you are looking for some good and simple ways to combine videos, you came to the right place. In this article, you are going to explore 3 ways for you to merge MP4 files with no technical knowledge required. Read on, and you could get started to merge videos with the help of free video editing software and online tool on Windows or Mac OS X OS platform; you could also clear your doubts here if you are not sure how to merge MP4 files online for free.
Merge MP4 Files in 3 Simple Steps for Windows Users
MiniTool Software company has been developing professional partition manager (MiniTool Partition Wizard), data recovery solutions, data backup and restore tools for over a decade. Recently, MiniTool company has added video processing programs to its product line.
MiniTool MovieMaker will cater to your need for merging video files with simple clicks. In addition, this MP4 joiner can do you a favor to quickly split a long video into many smaller parts, trim video, remove or add audio to video, extract audio from video, apply different video filters, add subtitles, and more. Follow the steps, use this free 4K video editor without watermark, and you could begin to merge MP4 files on Windows.
Step 1. Import a few MP4 files into this free video merger (joiner).
Install and launch MiniTool MovieMaker, and you will see the main interface, and then click the "Import Media Files" button to import the MP4 files that you want to merge. (see picture below)
Step 2. Drag some MP4 files and drag them to timeline
After all the files are imported into MiniTool software, you will find them in "My Album." Now please drag and drop each MP4 file one by one to the video track on the timeline.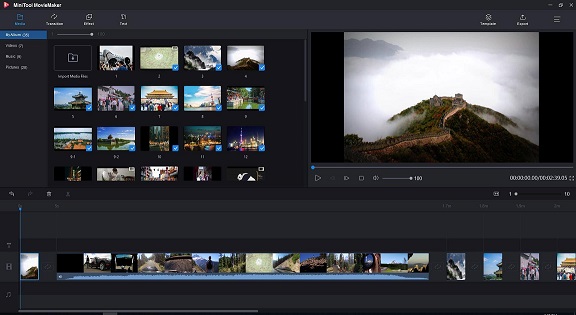 Step 3. Merge MP4 files right away
The video clips are merged instantly; click the "Play" button to preview the content in the video to confirm if everything looks great, and then hit on the "Export" button to save the newly merged MP4 video.
Edit Your Videos before You Merge the Files
Before merging multiple videos into one file, you could do a little basic editing to make you look more professional.
By hitting on the "Transition" tab and drag your favorite transition mode to the timeline, you are able to control how the video will display from one MP4 clip to the next one.
If you have a long video to edit, consider using the video trimming feature of MiniTool MovieMaker to remove the unnecessary parts from the original file.
Add customized text/subtitles/captions
You can use this Windows free video joiner to add animated titles and subtitles to your MP4 files to better express the video content.
How do Mac Users Merge MP4 Files?
iMovie is widely regarded as a good program to create videos. Download, launch iMovie and then follow the simple step as follow if you need to merge video files on Mac OS X.
Step 1. Import some MP4 files to iMovie on Mac.
Click File at the main UI and choose New Project → to enter a name for the video project, adjust the project settings → Click File, and then hit on the Import option → Now select some videos you want to combine from the Mac computer.
Step 2. Combine the clips now
Drop all those video clips to the project window and feel free to rearrange the order if necessary. ( Here is one tip. You can select only a section of the video clip if you don't need the whole clip to be merged).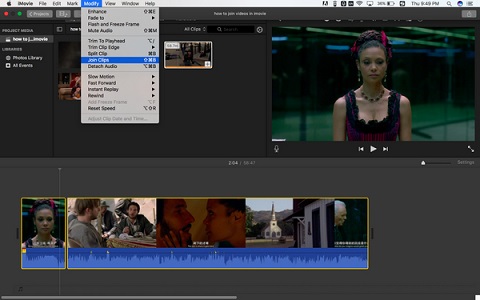 Step 3. Export the newly combined file
This is the last step. Please click on the "Share" button for iMovie to save the combined/merged video immediately. The most frequently used option is File, but if you prefer to send the file to iTunes, you should choose "iTunes."
The video editing features are somewhat basic for iMovie beginners, but some Mac users might complain that it not as easy as they expected.
Suggested: Best Game Recording Software for Windows
How to Merge Some MP4 Files Online for Free?
If you seldom merge files and need a quick result, you should consider the single-purpose online video joiner that is capable of merging video files. From our experience, Clideo.com is a good option to combine/merge MP4 files. Follow the guide below, and you could easily combine MP4 files online for free.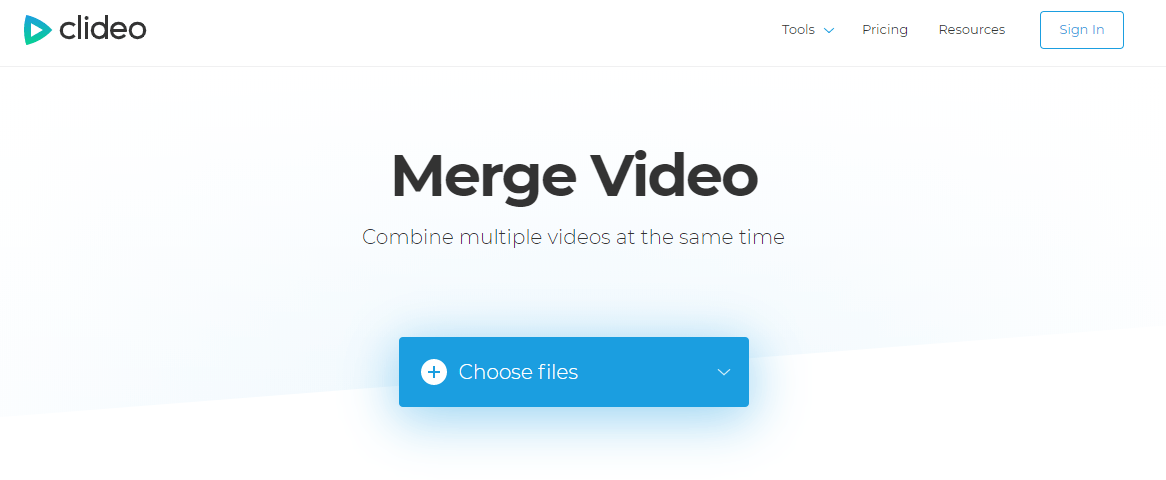 Step 1. Choose multiple MP4 files that you want to merge from your PC or Mac computer. Clideo also supports videos in video formats such as AVI, FLV, MOV, etc.
Step 2. Drag and drop all these video clips, rearrange them, trim the video if necessary, add audio, and set a volume; after that, click "Merge."
Step 3. Finally, click the "Download" button.
Using the online tool allows you to merge MP4 files online for free without needing to download any additional software. But pay attention that the online tool requires a stable Internet connection to use the service. And there is a restriction for maximum video file size.