Meet Blok on Blok (BOB), the World's first modular smartphone powered by the Blockchain smartphone technology and developed by Pundi X. The largest cryptocurrency sales network across the globe. The modular smartphone was also recognized as an Innovation Award Honoree at Consumer Electronics Show (CES).
BOB – Modular Smartphone Assembly Kit

Coming to the key features of the BOB Modular smartphone design powered by the blockchain sales network – It's modularity. BOB modular smartphone comes with a MOD Assembly Kit, which contains the motherboard, display screen, camera, speaker parts, buttons, and accessory enhancements. The accessory enhancements for the blockchain-enabled smartphone can be used to personalize the look and feel of the modular phone.
Besides, the kit is specially designed to be easy to assemble and with detailed instruction guides and videos. You'll also have the option to 3D print additional BOB parts to customize it more. You can check more details about the modular parts on their website to build your own unique and custom BOB phone. This is what personalizing a phone looks like. 
BOB's Specifications
The blockchain-powered smartphone comes with a 4.97 inch FULL HD AMOLED display and a pixel resolution of 1920 x 1080 and 16:9 aspect ratio. In terms of camera, there's a 48MP rear camera and a 16MP selfie camera.
The BOB runs on an Open Source OS Dual Mode: Android & Blockchain (Function X OS). Users can also switch between Function X OS and Android Pie; all tasks will be encrypted and decentralized by the Function x OS.
BOB will be powered by Qualcomm's Snapdragon 660 chipset and will come with 6GB RAM, and 128GB storage and supports up to 512GB. The handset will be backed up with a 3,300mAh battery with wireless charging. And guess what, it has a headphone jack, fingerprint sensor, NFC, and Dual-SIM support.
Blockchain Smartphone – Retro-Futuristic Sci-fi Design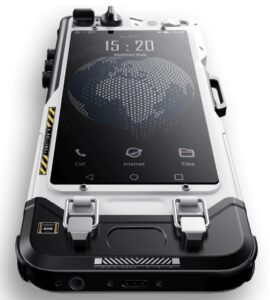 The design of the modular phone is inspired by Sci-fi films and comics back from the 80s – 90s. The classic retro design with the future-ready smartphone with cutting edge technology and unique at the same time.
See Also: Samsung Good Lock 2020
The BOB phone is priced at $599. You can pre-order your own BOB phone right now with a 10% discount if you book before December 14, 2019, from the XWallet app. The valid price will be $539. The handset will be available soon for kickstarting your modular phone.
PIC Credits: Functiox.io