If you want to design a logo for your new luxury brand or change the old logo for a brand new one, you can read this article and get something helpful in designing a luxury logo. It will also guide you to make a luxury logo with a popular free online logo generator – DesignEvo Logo Maker.
The Importance of a Good Luxury Logo
A luxury logo is a graphic symbol that identifies the luxury brand. Composed of images, colors, and texts, a luxury logo not only presents the products and services you are offering but also reflects your brand's story, company value, and the brand grade of the whole industry. It influences customers' emotions and leaves them a strong impression with good design. A good luxury logo even makes a good impact on attracting and converting people to potential customers.
Your luxury logo should be of good design. Placed in letterheads, business cards, landing pages, boxing packages, and other promotion materials, the logo helps your brand increase its popularity. On the other hand, it can separate you from the competition. Customers prefer your logo, which conveys a trustworthy, comfortable, friendly, and high-quality feeling, so they would like to choose you other than your competitors.
Make a Good Luxury Logo with DesignEvo Logo Maker
When you need a luxury logo, what will you do? It's best to be a designer with professional design skills and rich experience. You must be good at drawing, perception of beauty, and more about design. On the other hand, you know your brand the most. Therefore, you can combine all factors to create the most appropriate logo for you.
If you don't have the above background, you may pay some design agency for the logo design service, which may be more time-consuming. First, you need to let the designer know about your brand, tell him what style you want the logo to be, and what information you want the logo to deliver. There will be a relatively long time cost of communication, and you need to review different drafts and revisions of the logo before finalizing.
There is another way you can consider making your luxury logo. It has become more and more popular, and that is to create a logo with free online logo makers. The logo makers are logo design and editing software offering different editing tools. They are usually all-in-one solutions to beginners, so as to help them make logos easily.
DesignEvo Logo Maker is one of the best logo makers you can find online. It provides more than 10,000 delicate logo templates for you to choose from in nearly all categories. You can find a great selection of good luxury logo templates. Each template are carefully and well designed. Simply browse and choose the one you like the most and edit them with different editing tools.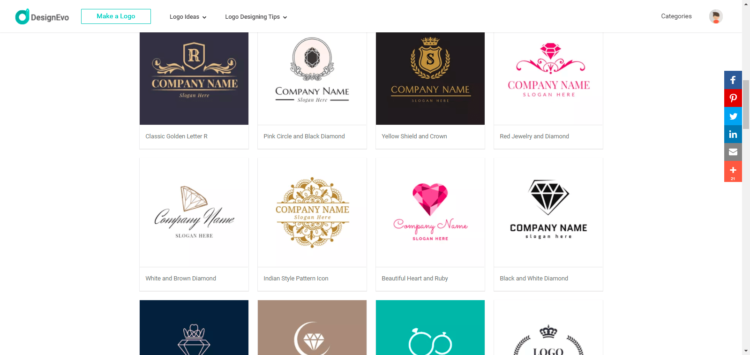 DesignEvo also offers millions of icons and 100+ stylish fonts for you to use to customize your logo. You can add, duplicate, delete, change their sizes, colors and positions. You can also change the logo's background to make a different feel from the original setting. I chose a diamond logo to edit and found that just simple text and slogan adding with particular font make the logo look great. I can use other tools in this luxury logo maker to create more unique looks.
You can try DesignEvo for free, and I guess you will find it indeed a good luxury logo maker. All work is to be done with simple clicks. Before saving and downloading the logo, remember to preview what it looks like. DesignEvo Logo Maker allows you to preview your logo on different surfaces like walls, business cards, notebooks, and T-shirts. This is to help you redesign your logo in time before putting it into practical use.