Screen recorders are popular these days because people are using them for content creation. Screen recording can help you make quality tutorials and how-to videos for people. Moreover, if you have a blog or business, you can use video marketing for your products.
Videos are paving the way for content creators to gain the attention of their customers. Screen recorders allow making attractive videos for people to communicate with them.
If you want to generate high-quality videos, you have to choose your screen recorder wisely. Read on to know about the best screen recorder in the market and its excellent features.
What is EaseUS RecExperts?
EaseUS RecExperts is the best screen recording software in the market right now. It provides you with the most delicate features to make staggering video content. The software is obtainable for both Windows and Mac users to capture their screens.
You can record videos for YouTube with the intuitive and straightforward EaseUS recorder. You can relish different features that will allow you to explore your creativity.
You can do basic video editing on your recorded videos to make them look perfect. The software enables you to promote videos by sharing them on social media platforms.
Features of EaseUS RecExperts
Below we discussed the outstanding and user-friendly features of EaseUS RecExperts:
1. Capture Any Area of Your Screen
The EaseUS recorder allows you to capture your Windows and Mac screen flexibly. You can select any part of your screen that you want to record in your tutorial videos.
You can choose from different options like "A Single Window" or a "Selected Area."
The software enables you to capture your entire screen for the best experience. Moreover, you can drag your cursor to select any area of your screen and make amazing videos.
2. Record Video and Audio Simultaneously
Not to mention that EaseUS RecExperts allows recording audio and video at the same time. We know you might find it daunting to record video and then add audio to it.
EaseUS provides you the best experience with the simultaneous audio/video recording feature.
You can record any background sound while using the screen recorder to make videos. Moreover, the software enables you to record your microphone while capturing your screen.
3. Record Webcam
Webcam feature is crucial if you want to add your face to your videos.
Many game lovers prefer webcam feature to record their gameplays. If you want to teach someone about a specific thing, you might want to show your face as well.
EaseUS allows you to increase user engagement with your content through webcam recording.

4. Game Recording Mode
When we say the best screen recording software in the market, we are not lying. EaseUS RecExperts knows all the needs of a game of love.
If you're an avid game lover and want to record your gameplays, then EaseUS is for you.
The software allows you to record high-quality game recordings. You can record any popular 2D or 3D games in high resolution.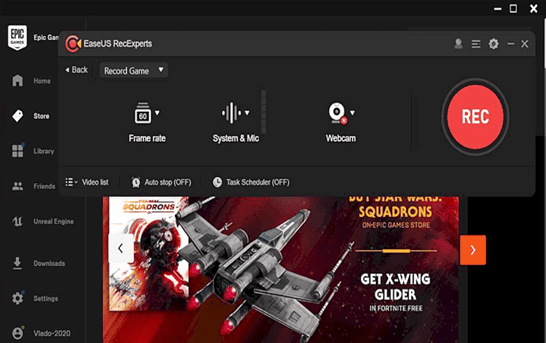 5. Schedule Recording Tasks
Scheduling your tasks can help you keep yourself on track. The impressive feature of the schedule recording task of EaseUS will help you a lot.
The software makes it achievable for you to create recording tasks automatically. Moreover, you can start your recording at a particular time and schedule many tasks.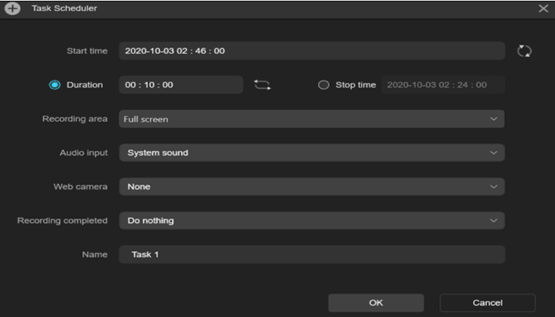 6. Edit videos with Ease
The editing feature of the software will give you joy while editing your recorded videos. You can add lines and texts in the video while recording for a better understanding of your audience.
Also, you can easily record videos without worrying that you have to start again if you make a mistake, thanks to the editing options it offers.
Competitors
There are tons of other free and expensive screen recording software in the market. The service and features of each software vary from each other. Below we discussed some of the other screen recorders:
· OBS
OBS Studio is a free, open-source and powerful screen recording software. The software can help you capture your screen and record videos. In addition, it does an excellent job of streaming. Packed with so many professional recording features, it is not so easy to use, especially for a beginner of screen recording.
· Flashback Pro
Flashback Pro is another screen recorder that enables you to record and edit videos. This software provides also basic editing features.
· Camtasia
Camtasia is another good video editing and screen recording software. The software provides professional screen recording and video editing features. However, the pricing of the software might shock you because it's on the expensive side.
Why EaseUS RecExperts?
EaseUS RecExperts aims to provide the best screen recording and video editing features. The software has a simple interface to record tutorials and videos.
– Ease of Use
If you're a beginner and don't know where to start. No worries because EaseUS got your back. With the fantastic interface of the software, you won't feel any problems in making videos.
You can quickly learn with the fantastic features of the software to make great videos.
– Superior Customer Support
The EaseUS has a team of highly-trained people with exceptional IT skills. EaseUS aims to provide its customer the best services to ensure the best experience.
You can get a quick response from the experienced team about any problem you're facing.
To wrap it up!
There is no doubt that screen recording software is the need of the hour for content creators. Choosing the best software can be daunting and confusing. To make things easier, you should consider the fantastic features of the EaseUS recorder.