WhatsApp Group Video Call Limit
Last week, we saw rumored about WhatsApp to be working on to increase the WhatsApp group video call limit for both audio and video calls for WhatsApp. Hardly a day later, the increased WhatsApp group video call limit has rolled out to WhatsApp Beta users. You can now add up to 8 participants in a group call – be it an audio or video call.
First spotted by WABetaInfo, the new group calling participant limit has rolled out on WhatsApp beta 2.20.133 version on Android and iOS version 2.20.50.25. This new feature is yet to be released out publicly, but we can expect it to reach everyone sooner because of the current COVID-19 situation.
To start a group call with more than 4 group members, you just need to tap the call button at the very top right. Then, you need to select those members you want to invite for a group video call. You can now add up to 7 participants, and if you count yourself in, that makes the total 8 as shown in image above.
Now, if you want to start the WhatsApp group call with members outside your group, then head to the 'Calls' tab. Tap on the call bubble at the right bottom of the app and select the 'New group call' option. Now, select the contacts you want to have a group video call with.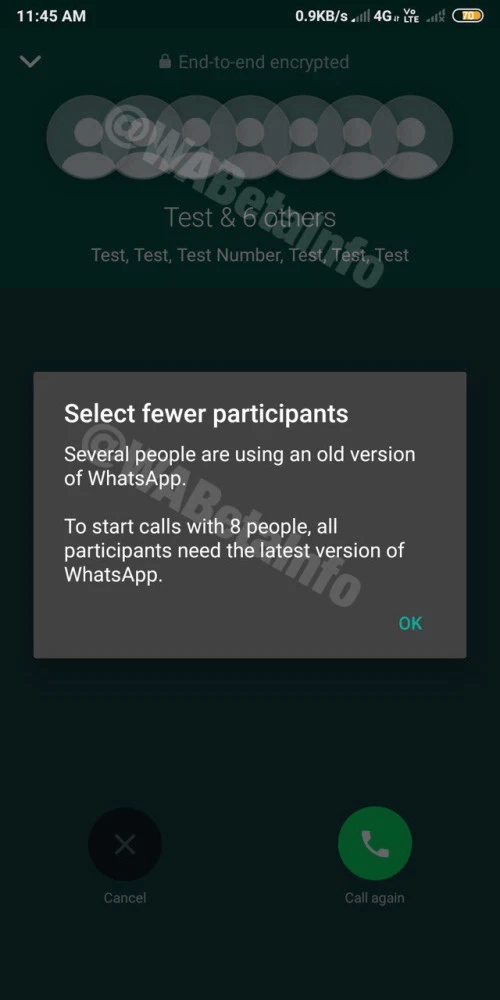 One of the significant problems of this increased WhatsApp group call maximum members is that all the users need to be on the latest version of WhatsApp. The app just throws out an error message that says – "Several people are using the old version of the app. To start calls with all the people, all participants need to be on the latest version of WhatsApp."
Moreover, the company is also said to be working on a new call header within the app. This header notifies the user that their calls are end-to-end encrypted.
More on WhatsApp: