Latest Telegram Update Brings Profile Video
WhatsApp top rival messaging app Telegram app has now bagged a new series of features to its messaging app on all of the Telegram updates on its cross-platform apps. It is not only an encrypted messaging app, and now it supports functions like file-sharing up to 2 GB in a go. Moreover, it offers brand new interactive functions to the group owners. Telegram is the best-encrypted chat app.
First in the line is now you will get an option to either upload a static photo or a profile video. This latest update on telegram messenger allows you to set a video as your profile photo. Telegram application users will now be capable of viewing the video, edit and enhance it within the Telegram messenger itself. Isn't it amazing?
The company also says that the newly updated and improved 'People Nearby' function now works like a charm. It has been customized and designed in a way that will help you meet new users in your neighborhood. Telegram is the most secure messaging app, and now it also suggests some cool stickers as an ice-breaker when talking to someone new. These Ice-breakers are very useful for people who find it hard to start a conversation in tough times.
Another Function that may catch your attention in the latest Telegram update is 'Group Stats' available for Telegram Group Directors. Telegram Group stats now shows channel stats function, high group members in beautifully crafted pie charts. You can now view and rewards those precious most top messaging members.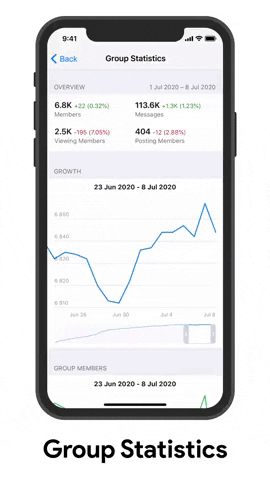 Now one of my favorite updates on Telegram is to make as many numbers of accounts on the Telegram app for windows. Similar to having three Telegram accounts on a single PC.
Besides, you now have a new feature like to automatically mute chats, automatically archive new users' conversation, and get a mini thumbnail photo in from the latest Telegram update chat list. Moreover, now telegram encryption is more secured and advanced. This update is still rolling out globally for both iOS and Android users.