Do you know, there's a most useful and hidden secret WhatsApp Menu feature that you can use? Well in this article, I'm going to uncover this iPhone clever trick that you might not know about.
This hidden secret feature is called Quick Actions and can be used from the Home Screen.
All you need to do is simply hold down or long-press on the WhatsApp icon to reveal the secret menu.
However, this trick might not work on all the other apps, but you can check for them by updating to the latest version. As nowadays many apps support the long-press options on iOS & Android.
And, WhatsApp is one of the apps in this category. So let us continue to the hidden trick and how you can access and use it.
Secret WhatsApp Menu Feature
When you long-press on WhatsApp, you'll notice that many options appear instantly.
As you can see, the first three options are default in Apple devices – Remove, Share and Edit Home Screen option.
List of Secret WhatsApp Menu Features
My QR Code
Camera
New Chat
Search
However, the bottom four options are specific to WhatsApp and the My QR Code option is something some of you might already know and some may not.
When you tap on this My QR Code secret WhatsApp menu feature it will open up your WhatsApp QR Code so you can quickly and easily share your contact details with someone you met outside. To add you, they simply scan the code using their iPhone camera.
This feature was released in the WhatsApp Update, you can learn about it here.
The 2nd option from the above list is Camera.
This feature is quite handy as you can quickly launch the camera app within WhatsApp to take photos or videos and share them with your contacts or simply put them as your WhatsApp status.
The third option from the list is New Chat – an easy way to quickly start a new chat with your friends.
Finally, you have Search, which basically allows you to search anything and everything within the apps.
You may save a lot of time by unlocking this hidden menu and using it frequently.
Although there are several hidden features of WhatsApp to try, I'll share some hidden features that will come in handy in day-to-day life.
1. WhatsApp Font Style
Did you know you can change the font style while sending a message on WhatsApp? If not read along to find out how you can change it using this secret font trick.
First of all, you will need to look for the backtick icon (which looks like a reverse apostrophe) on your keyboard.
Tap and hold down the apostrophe icon and it'll show the different options to choose from.
Now, place three of those reverse apostrophes (backtick) before & after the message
"`TechyCoder"`
Suggested Reads: How to Enable Dark Mode in WhatsApp and Self Destructing Message
2. Pin Chats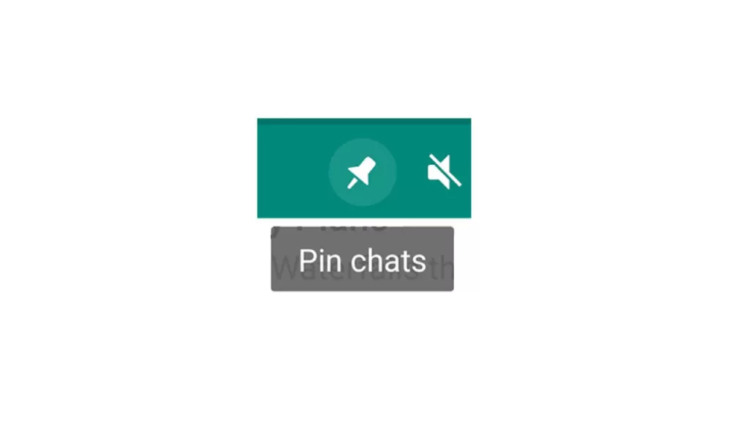 Every one of us has a go-to WhatsApp person with whom we chat and share our memories. And with several messages coming to your WhatsApp means you can't keep track of your favorite person's chat. So, in order to keep one of your chats at the top, Tap and hold on to the contact and select Pin Chat from the drop-down. And for iPhone users, swipe right on any chat and tap on the pin chat icon.
3. Hide your Last Seen from Peers and Friends
Sometimes, it gets frustrating when you have to reply to messages as they can see when you were last online on WhatsApp.
So, if you don't want your friends or any random contacts to know your "Last Seen". Open Settings > Account > Privacy > Last Seen.
Here, you have three options to choose from – Everyone, My Contacts, or Nobody.
4. Temporary Messages
After a recent update, reported by WABetaInfo, now you can set your messages/ chats to delete automatically after a certain time period. This feature is called WhatsApp's Disappearing Messages.
This feature is very easy to configure and use, all you need to do is open any chat messages and then tap on the profile or last seen, and then select the Disappearing Messages feature.
Now, all you need to do is Surprise your friends with a monospaced text on WhatsApp. So, that is all about WhatsApp's secret hidden feature. If you know any other secret features – do let us know in the comment section below.