Nowadays, lots of people realize the importance of backing up their iPhone data in a safe place. Having a current backup of their iPhone can easily help them to restore data from unexpected situations, such as stolen, lost, hardware damage, virus attack, and so on.
As the volume of data sharply increases, employing a trustworthy iPhone backup tool is necessary for iOS users to make a quick iPhone backup. Next, this post will help you to find a fine iPhone backup app, and guide you through the process of backing up iOS data.
What is AOMEI MBackupper?
When it comes to backing up iPhone, AOMEI MBackupper can be one of the best choices. It is a reliable and professional iPhone backup software that helps users to backup photos, videos, contacts, music, text messages, and other data to a computer or storage device. This app is developed by AOMEI Technology. With their 10-year experiment on data security, AOMEI MBackupper is now considered to be the best iPhone backup tool in 2021.
The development team always improves the product to meet different situations and demands. Based on numerous users' feed-backs, AOMEI MBackupper gained a great reputation worldwide because of excellent performance in the following aspects:
Also, read our detailed article on how to turn off the orange light on iPhone's top right corner easily.
iPhone to PC/iPhone transfer
The "Transfer" is one of the incredible features of this iOS backup software. "Transfer to computer" makes it so easy to move iPhone data like videos, photos, music, and contacts from iPhone to PC. Similarly, "Transfer to PC" feature enables you to add data from a PC to your iPhone. If you bought a brand new iPhone, you can use it to complete iPhone transfer operations saving you from tedious work to keep previous data.
Selective and Preview backup
AOMEI MBackupper supports partial backup iPhone data, and you can preview backup files during the operation. For example, if you just want to back up several photos taken last year, you can only select them on the software before clicking the "Start Backup" button.
Full support on iOS devices
Apart from iPhone, AOMEI Mbackupper has great compatibility with all iOS devices, such as iPad, iPad Air, iPad mini, and iPad Pro including the latest 2021 M1 iPad Pro, and iPod Touch. All music, messages, photos, videos, and other data can be backed up & transferred. Besides, this iOS backup software always supports the newest iOS version, like iOS 14.
Incremental backup
AOMEI Technology owns advanced incremental backup technology allowing users to only copy modified or newly added data. So next time, if you save some new files or change a file on your iOS device, running an incremental backup, can save you time and backup storage.
Fast backup and restore speed
AOMEI MBackupper gives you a much faster speed to backup and restores files than other backup tools. It was tested that this software takes less than 1 minute to back up 1000 photos, and photos can be quickly restored to iPhone without any harm to the device. Here you can also learn about the best backup software for Windows, check now!
How to use AOMEI MBackupper?
AOMEI Mbackupper comes with an intuitive interface. So whether you are a technician or backup newbie, you can complete an iPhone backup operation in a few steps. Now just connect your iPhone to a Windows computer or laptop via a USB cable. Trust the connected PC, and follow the steps below to see how it works.
Step 1. Download and install AOMEI MBackupper. Click "Custom backup" to manually select backup items or click "Photos backup" to only backup photos.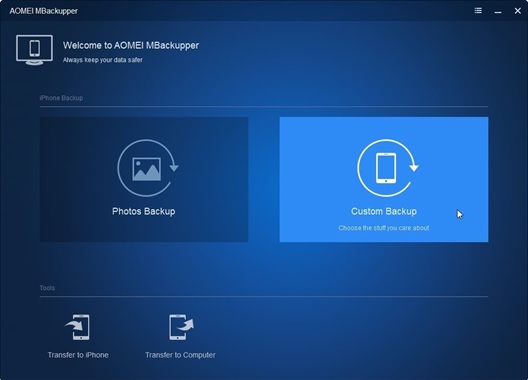 Step 2. Choose the data that is needed to be backed up. Then click "OK"
Step 3. You can specify the backup path on the low corner of the main interface. Then click "Start Backup" to start the process.
When the process is finished, you can enter the Backup Management to restore, delete, brose the backup files.
Note: Later on, you can run an incremental backup by clicking the triangle icon. It will only backup the newly added and modified data.
Also, learn the steps to backup android to pc, check the detailed guide for beginners here!
Conclusion
With its various advantages and features, no wonder why AOMEI MBackupper can stand out and has millions of users around the world. Now you can back up your precious memorable pictures, videos, and other vital business data, like contacts, messages on your iPhone, iPad, and iPod Touch before losing them. If you need to make a backup for iPhone, MBackupper can be your first choice.