List of Top 5 Android Launchers
When it comes to launchers for android, the very first option that comes in lots of people mid is Nova Launcher. While that is quite natural for peoples out there, Nova launcher has been there for a quite long time providing lots of features and customizations one can imagine of. Many of you right now might be looking for new launchers with more cool new features. This thirst for the best free launcher for android inspired us to put together this list of 5 new best launchers for android you should check out.
Our first pick in this list is Niagara, which is my present favorite launcher ever since I found it. There are many customizations in the launcher settings, which lets you customize it. Give it a try.
Niagara (Best Android Launchers)
This Niagara launcher is the unique looking launcher in this list. Niagara is one of the best android phone launcher that gives your smartphone a whole new look and also offers you a minimalistic experience on your phone. You also get to experience the most exceptional features of Android 10, including smart replies and dark mode.
Download Niagara (Free)
Customized Pixel Android Launcher
If you are someone who loves Pixel themes and icons, and you want to make a few customizations, the Customized Pixel Launcher would be your best bet. This CPL app is available for free on google play store.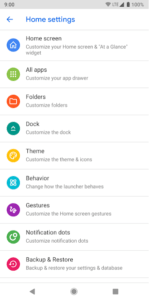 Download Customized Pixel Launcher (Free)
Before Android Launcher
Before Launcher is a launcher, I would suggest, if you are genuinely into the minimalistic experience from your mobile launcher apps.  As the names suggest, Before Launcher, Stay focused. This app has a set number of filtered notification that can be changed by the user that shows notifications only from the apps you would like to get it. You can also turn on incognito mode in settings in this android launchers setting, and the app won't track your recently used apps.
Download Before Launcher (Free)
Lawnchair
The Lawnchair launcher brings Pixel features to the mass android devices. An open-source best android launchers 2019 project developed by volunteers, you can join their Telegram Channel here and download the latest version of the launcher. This app supports Icon pack, Blur UI, and many more.
Download Lawnchair (Free)
Evie Launcher
Evie Launcher was designed for better performance and smoothness, which makes it one of the fastest android launchers. Its universal search feature lets you search even withing your apps and files from one place, comes packed with a wide range of home screen shortcuts and customizations.
Download Evie (free)
Also Read: How to Connect Your Mobile to a PC using Bluetooth?
So, these are our top 5 list of best Android launchers 2019 and we think you should not miss out on. Do you have any similar suggestions? Share your reviews about the apps in the comments section below.